Stormcloud Warzone Blueprint: How to Get the FAL Blueprint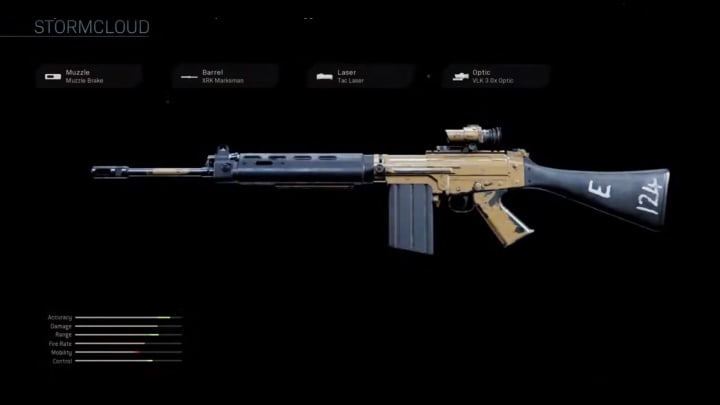 The Stormcloud Warzone Blueprint is an epic rarity FAL variant that can be used by players in Warzone and Modern Warfare. / Photo by Infinity Ward via GamesAtlas
The Stormcloud Warzone Blueprint is an epic rarity FAL variant that can be used by players in Warzone and Modern Warfare.
Blueprints allow players to use weapons and attachments they might not have unlocked yet to hurry up the unlocking process. Players have the FAL from Rank 1, but the four attachments take a little bit of time to gain access to, so this blueprint might be for you if you want to try out the FAL without spending the time to unlock the attachments.
Stormcloud Warzone Blueprint: How to Get the FAL Blueprint
The Stormcloud blueprint is available as a part of the Cloak and Dagger bundle in the COD store that can be purchased for 1,800 COD points. The bundle comes with the Stormcloud blueprint as well as a skin, combat knife, weapon charm, sticker, finishing move, calling card, and an operator equip for Zane.
The blueprint is of epic rarity and therefore comes with four already equipped attachments:
Muzzle: Tactical Suppressor
Barrel: XRK Marksman
Optic: Integral Hybrid
Underbarrel: Operator Foregrip
These attachments will massively increase the weapon's accuracy, moderately increase the weapon's range and control, but will slightly inhibit the weapon's mobility. Another popular FAL blueprint is the Beefeater.