Street Fighter 6 Release Info Revealed as Roster Leaks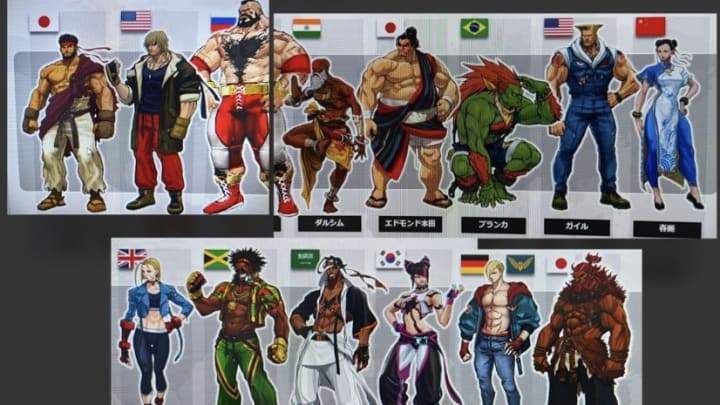 A leak appears to have revealed 22 fighters appearing in Street Fighter 6. / Courtesy of Capcom, via @Sonystacom
Capcom has announced Street Fighter 6 will hit PlayStation 4 and 5, Xbox One and Series X|S, and PC in 2023. The news comes alongside a gameplay preview and leaks that appear to reveal the game's roster.
In addition to the standard head-to-head combat players have come to expect from the Street Fighter series, Street Fighter 6 will feature an open-world story mode called World Tour set in the New York-like Metro City. The game's multiplayer will take place in the Battle Hub. Details on both World Tour and the Battle Hub will be revealed as the game's release date approaches.
The trailer shown during Sony's State of Play broadcast Thursday showed off five characters appearing in the game: series stars Ryu and Chun-Li, Street Fighter V DLC character Luke, and newcomers Kimberly and Jamie.
But leaks have shown far more fighters set to join the mix. Artwork for 22 total characters appeared online Thursday, and although the source of the leaks is unclear, the character list seems plausible.
Per the leak, all eight of the World Warriors from Street Fighter II will return in Street Fighter 6. They include the aforementioned Ryu and Chun-Li, plus Ken, E. Honda, Blanka, Guile, Zangief and Dhalsim.
Other returning fighters include Cammy and Dee Jay from Super Street Fighter II, Akuma from Super Street Fighter II Turbo, Juri from Street Fighter IV, and Ed and Rashid from Street Fighter V. All the returning characters have received significant redesigns.
Kimberley and Jamie also appear in the leak, as do several other apparently new fighters:
Lily: A Mexican fighter wielding a pair of war clubs
Marisa: A hulking Italian fighter with clothing evocative of Roman gladiators
A.K.I: A claw-wielding Chinese fighter named
Mimi: A French fighter with pink hair
JP: A Russian fighter wearing an orange vest and pants and carrying a walking stick
Capcom has not confirmed the leak as genuine.
UPDATE 6/4/22 10:18 a.m.: Capcom now appears to have confirmed the leak is authentic. The article above remains as originally written.