Surprise Black Ops Cold War Update Adds WMD Map, Vargo 52 AR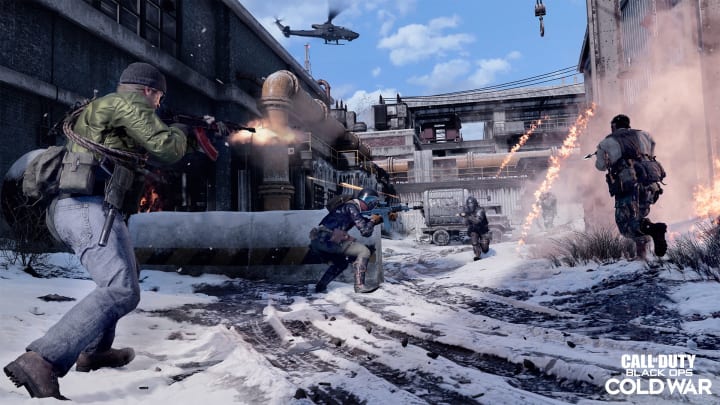 The first content update of 2022 for Call of Duty: Black Ops Cold War debuts a remaster of WMD and an all-new assault rifle. / Image courtesy of Activision
In a somewhat surprising fashion, in the midst of Season Two of Warzone and Vanguard, Treyarch Studios released a brand-new content update for Call of Duty: Black Ops Cold War on Friday.
From the return of a fan-favorite map to the debut of an all-new 1980s assault rifle, here's a breakdown of the March 4 update for Call of Duty: Black Ops Cold War.
Surprise Black Ops Cold War Update Adds WMD Map, New Vargo 52 AR
Kicking off the patch is the remixed edition of Black Ops (2010)'s 6v6 map, WMD, coming to Cold War.
A large Multiplayer map featuring a multitude of power positions throughout its interior and exterior spaces, the return of WMD is sure to be one that Call of Duty OGs will surely appreciate.
Secondly, the new update is bringing something that will surely shake up the Warzone weapon tier lists with the Vargo 52 assault rifle.
In-game, the Vargo 52 is described as a "full-auto assault rifle" with "good damage at mid-range" and a "fast fire rate." It will seemingly also boast an "improved muzzle velocity and reliable handling for steady firing control."
The Vargo 52 can be unlocked in Black Ops Cold War by completing one of the following challenges:
Multiplayer: Using Assault Rifles, deal 1,000 damage in 15 different completed matches.
Zombies: Eliminate 750 enemies while using an Assault Rifle that has been Pack-a-Punched three times.
Being that Treyarch specifically labelled this its "first content update of 2022," it seems this won't be a one-off thing. When the next update is coming remains unclear.