Swagg Dubs TAQ-56 as 'Best' AR in Warzone 2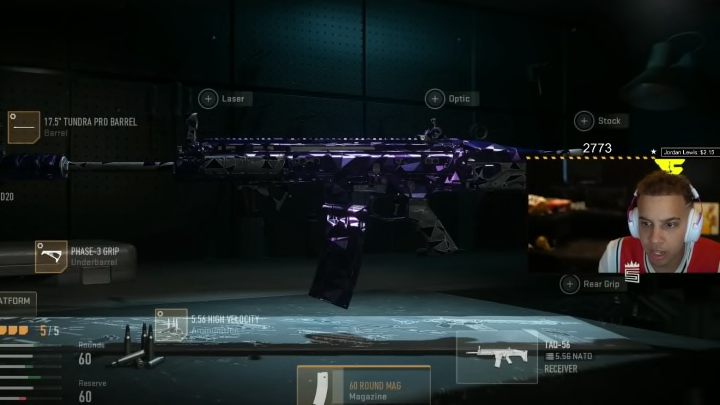 Swagg/Activision
Call of Duty streamer Swagg has listed his reasons for why the TAQ-56 is the best AR for the job in Warzone 2.
The Warzone meta is constantly shifting, thanks to patches, updates, and the general whims of the developers. With Warzone 2 still being relatively fresh, the meta is very much up for debate. But Swagg has put forward his thoughts on why the TAQ-56 is a justified addition.
In a YouTube video from Nov. 30, aptly titled "The TAQ-56 is Better Than the M4", the streamer revealed his specific loadout. Acknowledging that the ADS speed might be a hurdle in the eyes of some, Swagg claimed that the TAQ-56 (also known as the Scar) actually performs "better without a scope."
Swagg's loadout consists of:
Barrel: 17.5″ Tundra Pro Barrel
Muzzle: Harbinger D20
Underbarrel: Phase-3 Grip
Ammunition: 5.6 High Velocity
Magazine: 60 Round Mag
If you're wanting to match Swagg's loadout exactly, you'll also need to mimic his weapon tuning. For the Tundra Pro Barrel he tuned it to recoil steadiness and damage range. As for the Harbinger D20, he put it all the way up for recoil smoothness and bullet velocity.
The Phase-3 Grip has been kitted out for recoil stabilization and aiming idle stability. Lastly, the 5.56 High Velocity rounds have been tuned for damage range and bullet velocity.