Swagg's New CR-56 AMAX Warzone Loadout Turns the AR Into a Lethal Sniper Rifle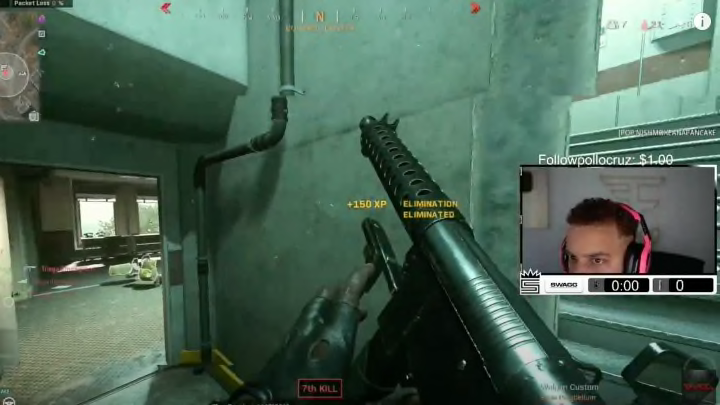 Swagg has created a new loadout for the CR-56 AMAX that hybrids the AR into a sniper-like rifle, with insane range while mantaining that accuracy. / Photo Courtesy of Swagg/Activision
The CR-56 AMAX has always been a consistent and solid choice of Assault Rifle in Call of Duty: Warzone, even since Verdansk. While it may not be the most popular choice of AR now, it's still a good weapon if you want a boost of range on your ARs coupled with good damage.
The CR-56 may make a comeback soon, thanks to new loadout shares by Swagg, a popular voice in the Call of Duty: Warzone community. His loadouts are usually very popular and are decent options to replicate in your own Warzone sessions. Swagg has created a new loadout for the CR-56 AMAX that hybrids the AR into a sniper-like rifle, with insane range while mantaining that accuracy and firepower. There are already contenders for best long-range Assault Rifles, but this one transforms the gun completely. Here's how to build it.
Swagg's New CR-56 AMAX Warzone Loadout
Swagg released a video using the new CR-56 AMAX loadout recently, and showed off how to build it for yourself:
Attachments
Muzzle: Monolithic Suppressor
Barrel: XRK Zodiac S440
Optic: Sniper Scope
Ammunition: M67 10-R Mags
Perk: Sleight of Hand 
These attachments help improve the AR's damage range by a ton, as well as mantain the firepower of the original CR-56 AMAX. The main cons of the build is that it is meant for long range meaning you'll need a steady hand to handle recoil with the sniper scope. Additionally, the ADS on this loadout is a bit slower, but for the ability to take down medium-to-long range targets faster, this is still a solid sniper alternative in Warzone.
The Sleight of Hand Perk helps make things easier for you by boosting your reload speed, which is always important for sniper builds. Try this loadout out in your next Warzone session and let us know what you think. Has Swagg made another great sniper option with this loadout?