Synthetic Dreams Warzone Blueprint: Everything You Need to Know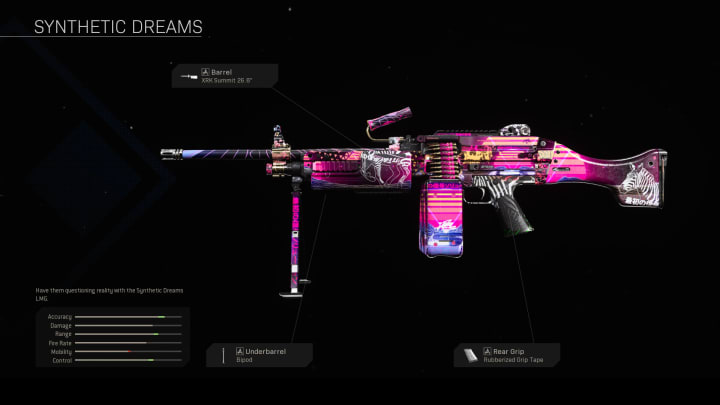 The Synthetic Dreams blueprint is a rare variant of the recently released Breen MK9 LMG. A strong hybrid AR/LMG weapon, it is quite underrated. / Photo courtesy of Infinity Ward
Synthetic Dreams is a Warzone and Multiplayer blueprint in Call of Duty: Modern Warfare. It is a rare level variant for the Bruen MK9. The variant and blueprint was released in Season 4 this month. The Bruen MK9 is a versatile LMG that with the right attachments, can function as a hybrid Assault Rifle/Light Machine Gun weapon. 
The Synthetic Dreams blueprint is part of the Neon Nights II Bundle, available in the Call of Duty Store for 500 COD Points.
Synthetic Dreams Warzone Blueprint: Default Attachments
The Synthetic Dreams blueprint comes with only 3 default attachments, leaving you the ability to kit out this particular variant with whatever you might like to round out the class. 
Barrel: XRK Summit 26.8"
Underbarrel: Bipod
Rear Grip: Rubberized Grip Tape
There is also a blueprint variant that appears in rare weapon crates within Warzone, that you can pick up in-game. This specialized blueprint includes:
Muzzle: Lightweight Suppressor
Barrel: XRK Summit 26.8"
Ammunition: 60 Round Mags
If looking to take this weapon into Warzone via your loadout, you will want to maximize its strengths while mitigating the downsides of handling and movement speed an LMG presents. Consider running this weapon kit to check off both boxes:
Muzzle: Monolithic Suppressor
Optic: Cronen Mini Reflex
Stock: Skeleton Stock
Rear Grip: Stippled Grip Tape
Ammunition: 60 Round Mags
Synthetic Dreams Blueprint: Neon Nights II Bundle
You can secure your Synthetic Dreams blueprint by purchasing the Neon Nights II bundle from the COD store for 500 COD Points. Considerably cheaper than comparable bundles, this is a light buy and can usually be purchased with whatever extra COD points you have lying around leftover from purchasing the season passes, alongside COD points you earn by moving through the season pass ranks. The bundle comes with the Bruen MK9 blueprint, a calling card, emblem and spray.