Tammy Abraham FIFA 22: How to Complete the FUT Birthday Objective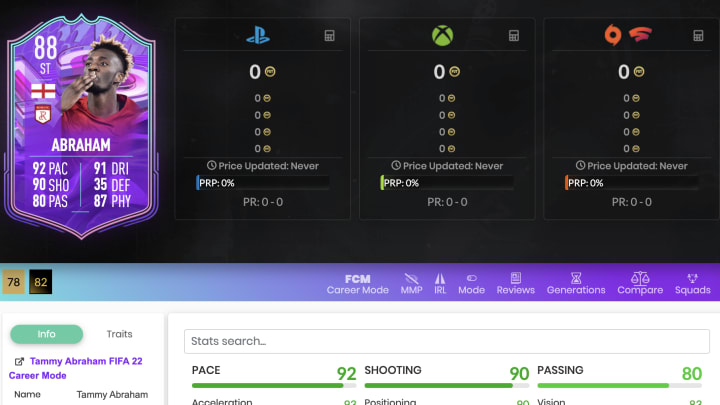 Roma FC's Tammy Abraham has received a special FUT Birthday item in FIFA 22. / Photo Courtesy of FUTBIN
Roma FC's Tammy Abraham has received a special FUT Birthday item in FIFA 22. The card is obtainable by completing a set of objectives in the Live FUT Friendlies game mode in Ultimate Team.
Here's how to complete the new Abraham FUT Birthday Objective in FIFA 22.
Tammy Abraham FIFA 22: How to Complete the FUT Birthday Objective
To earn Abraham's FUT Birthday card in FIFA 22, you'll have to complete the following objectives in the Live FUT Friendly: FUT Birthday:
Win 4 Matches (Reward: 75+ Rated Rare Player Pack)
Assist 8 goals using Serie A Players (Reward: Gold Pack)
Score with a forward in 5 separate matches (Reward: Two Players Pack)
Score using English players in 10 separate matches (Reward: Small Electrum Players Pack)
Abraham's special card features a 5* skill move upgrade with a 3* weak foot, and a solid upgrade, especially in the dribbling category. He's been given the following base stats on his FUT Birthday card:
Pace: 92
Shooting: 90
Passing: 80
Dribbling: 91
Defending: 35
Physical: 87
For a player that stands at a whopping 6'5", Abraham has fantastic dribbling, with a boost to 91 agility, balance, ball control, and dribbling. The card is Abraham's second special card for Roma FC in FIFA 22, after receiving an in-form earlier in the year. If you have an English or Serie A squad, he will fit nicely in your team, especially if you've also completed the new Henrikh Mkhitaryan FUT Birthday SBC.
Abraham's FUT Birthday Objective expires on Mar. 11.