Top Games
Target Cyber Monday PlayStation 5 Restock Information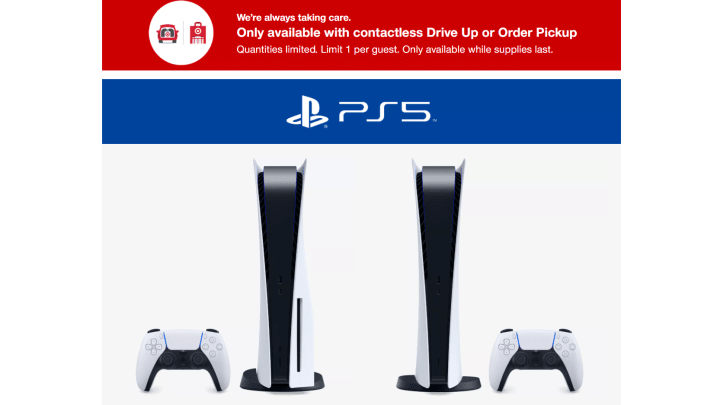 We have the latest information regarding Target's Cyber Monday PlayStation 5 restock. / Sony, Target
We have the latest information regarding Target's Cyber Monday PlayStation 5 restock.
Next-generation consoles across the divide have been plagued with stocking issues since they dropped. It seems as though fans simply cannot get their hands on these machines fast enough leaving some unlucky would-be users grasping at straws.
Are you looking to get your hands on a PlayStation 5 console for the holiday season? Here's what we know about Target's stock.
When Will Target Restock the PlayStation 5?
PlayStation fans are in luck this season. According to several leaks, teases, and information from restocking experts, Target may be releasing its largest number of PlayStation 5 consoles this Cyber Monday.
Jake Randall, an expert next-generation gaming tech tracker, noted that he was unsure whether the drop would actually take place on Cyber Monday. Due to the sheer magnitude of items, however, he did express that it would be worth it to watch local shops on the off-chance Monday was the primary day.
"Target still loves to restock on Wednesday, Thursday, or Friday but there's a lot of speculation it'll be cyber Monday. I don't think it will be but this is such a large restock it'll be worth it to watch everyday next week," he wrote in a tweet published to his verified Twitter profile on Saturday, Nov. 27.
He also explained some of the best ways to get a console in a video uploaded to his YouTube channel in February of this year:
Make sure you have a Target account with saved payment and shipping information ready to go.
Picking up in-store is the better option as shipping to an address tends to sell out "instantly."
PayPal and/or Apple Pay are much quicker options for checkout than a traditional bank card. Red Card may also be used but isn't as reliable.
Utilize both phone and website platforms to search and/or checkout if possible.
Select "Edit Store" to see nearby stores should the local store be empty. Switch to a store with stock and try again. Randall has a guide available if the website prevents checkout after following these steps.
Target typically uploads its restock information between 6 a.m. and 9 a.m. ET (3 a.m. and 6 a.m. PT). It refreshes its console stock in waves one console at a time. For example, if the PlayStation 5 physical just restocked, the digital shouldn't be far between. This may discourage some users but Randall recommends staying engaged and refreshing the page.
Good luck, readers, and may the odds be ever in your favor.