Call of Duty
Team ItsEyeQew Wins Twitch Rivals Warzone Iron Trials Showdown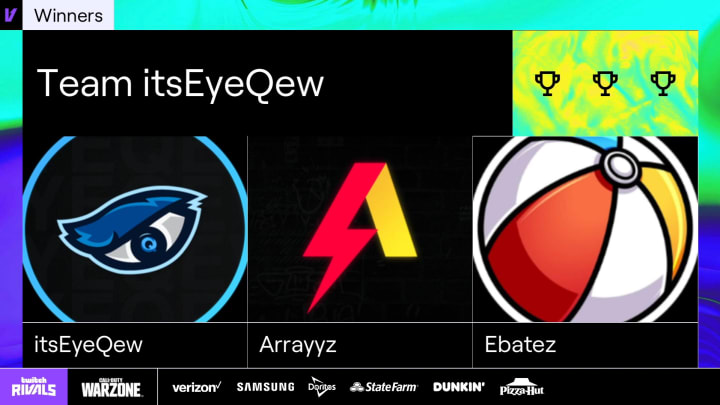 Image courtesy of Twitch
Team ItsEyeQew have emerged as the victors of the latest Warzone Twitch Rivals tournament.
Twitch Rivals kicked off another Warzone tournament yesterday, this time it was the Iron Trials Showdown. The event saw roughly 50 teams of three drop into custom games of Iron Trials '84, putting their Warzone skills to the test in this brutal and hardcore mode. Each team was competing for their share of the $75,000 prize pool. The team in first place walked away with $15,000 ($5,000 for each player).
Any team who managed to rank in the Top 49 netted themselves some of the prize, though of course the big money was reserved for those who ranked at the very top.
Twitch Rivals Warzone Iron Trials Showdown Results
With a mode like Iron Trials '84 the matches were bound to be chaotic, but straightaway it was Team ItsEyeQew giving the other teams a run for their money. Consisting of Arrayyz, ItsEyeQew, and Ebatez, this team secured the wins for the first two maps. With plenty of kills under their belt, they were going to be hard to usurp.
Map three saw Team bbreadman take the win, while Team Tommey were the victors in map four. These wins pushed both teams into the Top Five, but it wasn't enough to claw the top spot from Team ItsEyeQew. At the end of the final map, Team ItsEyeQew has placed in the Top Three, earning them enough points to remain as the overall champions. The final Top 10 places were as follows:
1st - Team ItsEyeQew - 134.1 points
2nd - Team bbreadman - 111 points
3rd - Team Tommey - 97.5 points
4th - Team zColorss - 91.7 points
5th - Team Rated - 85.6 points
6th - Team Swagg - 70.5 points
7th - Team Djmas23 - 65 points
8th - Team iSmixie - 62.7 points
9th - Team OPMarked - 53.3 points
10th - Team Metaphor - 53.3 points
The Twitch Rivals Warzone Iron Trials Showdown took place on Oct. 26, at 6:30 p.m. ET. Viewers could watch along on the Twitch Rivals official channel, or by tuning into their preferred team's streams.