Teji Savanier FIFA 22: How to Complete the Ligue 1 POTM SBC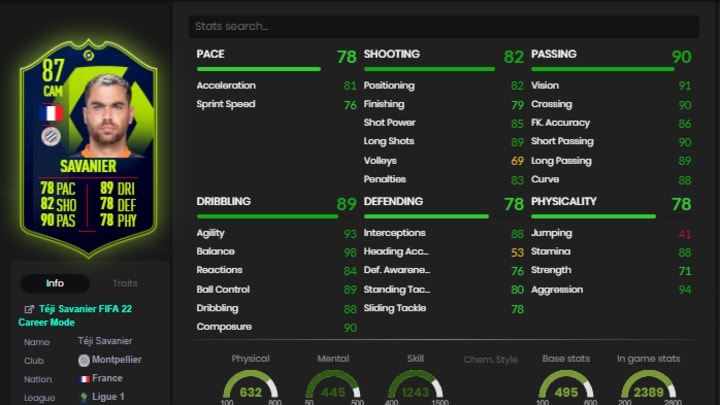 Photo by FUTBIN
Teji Savanier FIFA 22 Ligue 1 Player of the Month SBC went live Jan. 20 a day ahead of Team of the Year going live in Ultimate Team.
EA Sports releases special Player of the Month SBC items every month for the Premier League, Ligue 1, Bundesliga, Serie A, La Liga and Eredivisie. For some leagues, fans have the opportunity to vote for who they want to win the award. January's Ligue 1 POTM SBC was a contentious point considering Kylian Mbappe was up for nomination. Fans hoped an untradeable Mbappe was made available, but instead Teji Savanier won the award. And justifiably so, Savanier has been on a tear for Montpellier this season.
Teji Savanier FIFA 22: How to Complete the Ligue 1 POTM SBC
Here's how to complete the Ligue 1 POTM Savanier SBC in FIFA 22:
Segment 1
# of Players from France: Min. 1
Team of the Week Players: Min. 1
Squad Rating: 82
Team Chemistry: 70
# of Players in the Squad: 11
REWARD: Premium Gold Pack
Segment 2
# of Players from Ligue 1: Min. 1
Squad Rating: 84
Team Chemistry: 60
# of Players in the Squad: 11
REWARD: Prime Mixed Players Pack
This is a phenomenal SBC in terms of value. Savanier's POTM item is the same rating as his Headliners card currently, but if he receives another performance based upgrade that Headliners card will surpass this new card. He's got fantastic passing and dribbling, meaning players can focus on boosting his pace and defending through chemistry styles.
He will also be easy to craft during Team of the Year considering the amount of upgrade packs that will be available for players to craft.
POTM Savanier expires Feb. 20 at 1 p.m. ET.