The Breakup Blueprint Warzone: How to Get the Blueprint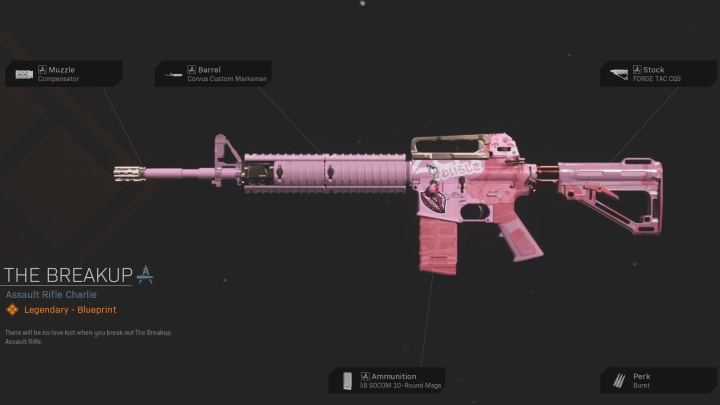 The Breakup is a legendary M4A1 blueprint in Warzone. / Photo by Activision/Infinity Ward
The Breakup Blueprint Warzone is a special M4A1 loadout available for purchase in the Call of Duty: Modern Warfare store.
Blueprints, in both Call of Duty: Modern Warfare and Warzone, are special editions of weapons that come with pre-equipped attachments and a custom cosmetic skin. Blueprints became more popular in Warzone considering some are found in loot crates during a game. They become even more valuable for new players who want to level up weapons. Since Warzone is free-to-play, they're at a disadvantage compared to those who have leveled up guns through purchasing the full game.
Here's how to get The Breakup blueprint in Warzone.
The Breakup Blueprint Warzone: How to Get the Blueprint
The Breakup is part of the Tracer Pack: Anime bundle in the Call of Duty store. The bundle costs 1,800 COD Points. Players also receive the Casanova blueprint for the P90, the Love Bomb charm, the Luscious sticker and Skirting Death calling card.
Here are the attachments on The Breakup:
Barrel: Corvus Custom Marksman
Muzzle: Compensator
Ammunition: .458 SOCOM 10-Round Mags
Stock: FORGE TAC CQS
Perk: Burst
These attachments aren't necessarily the best for the M4A1, but it gives players a bit of a head start. As a fun touch, it also shoots pink tracers. Players have to purchase the full bundle to get the blueprint. As of writing, the blueprint has not been found int he game's loot drop system through crates or random drops. That might change in the future as Activision and Infinity Ward alter the loot system.
Once leveling up the weapon, players can replace the attachments with whatever they choose to use. For the best attachments to use on the M4A1, check out our recommended build here.