The Daily Bugle IO Blimp Has Crashed in Fortnite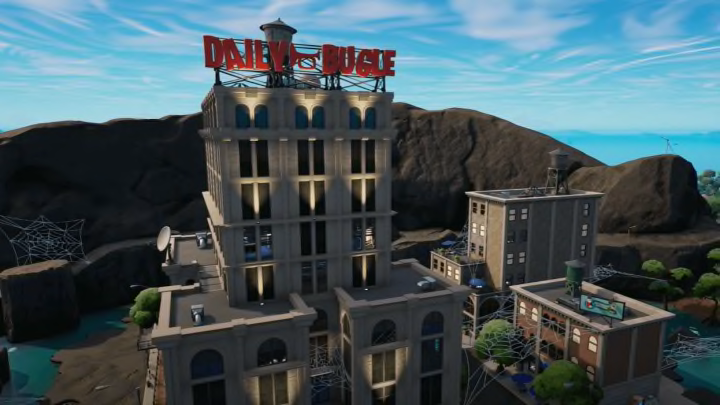 The Daily Bugle's IO Blimp is no more. / Image courtesy of Epic Games
As pointed out by plenty of players across the Fortnite community on Tuesday, the IO Blimp from The Daily Bugle has departed the point of interest (POI) and crashed into the ocean.
The map change comes about a week removed from Epic Games announcing The Battle for Daily Bugle in their v.20.20 update, inviting players to hop into the front lines at the POI to help the Resistance push back against the IO forces. Here's a breakdown of the IO Blimp from The Daily Bugle crashing in Fortnite Chapter 3 Season 2.
Can You Go Inside the Crashed IO Blimp?
As pointed out by those on Reddit, now that The Resistance has won the Battle for Daily Bugle ⁠— with there now being Funding Stations for an Armored Battle Bus and set of Turrets at the POI ⁠— what's left of The Daily Bugle's IO Blimp can now be found in the map's east coast waters, on fire and partially submerged in the ocean.
The wreckage is, of course, explorable with there being two new high-value IO chests and random items floating on the large scraps spawning in the vicinity.
Unfortunately, however, there is currently no way to get inside of the crashed blimp, which is a bit anticlimactic considering nothing else was destroyed.
Within short notice, plenty of players also pointed out that back at The Daily Bugle, a new Ghost flag has been put up, which is ultimately a bit confusing that it's not one of the Seven.
Ultimately, these events might just be a sign of what's to come, with Epic Games announcing in their latest developer blog that the fight against the IO continues in the Battle for Condo Canyon.