The Dark Warzone Blueprint: How to Earn the P90 Skin and Build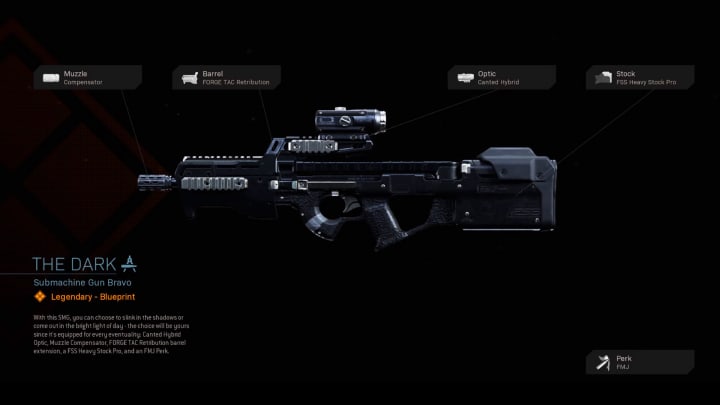 The Dark Warzone blueprint is available with a bundle purchase from the in-game store / Activision via Games Atlas
The Dark Warzone blueprint is available as part of the Gun Nut bundle from the in-game store.
The Dark is a legendary quality SMG based on the P90 in Call of Duty: Warzone. Visually, the weapon is all black and navy with cold slate accenting and silver details. It has five attachment slots available and only takes SMG or pistol ammunition.
It comes with changes to the barrel, optic, muzzle, stock, and perk. The Dark offers more accuracy, range, damage, and control at the cost of mobility.
The Dark Warzone Blueprint: How to Earn the P90 Skin and Build
The Dark is available for acquisition through the purchase of the Gun Nut bundle in the in-game shop. It will run you 3,000 COD Points and includes the Dark P90 legendary blueprint, the Oscar Mike M4A1 legendary blueprint, the Stratagem SA87 legendary blueprint, the Eradication EBR-14 legendary blueprint, and the Quick Hit X16 legendary blueprint.
The attachments available in this blueprint are as follows:
Perk: FMJ
Stock: FSS Heavy Stock Pro
Muzzle: Compensator
Barrel: FORGE TAC Retribution
Optic: Canted Hybrid