The Esports Bubble: Fact or Fiction?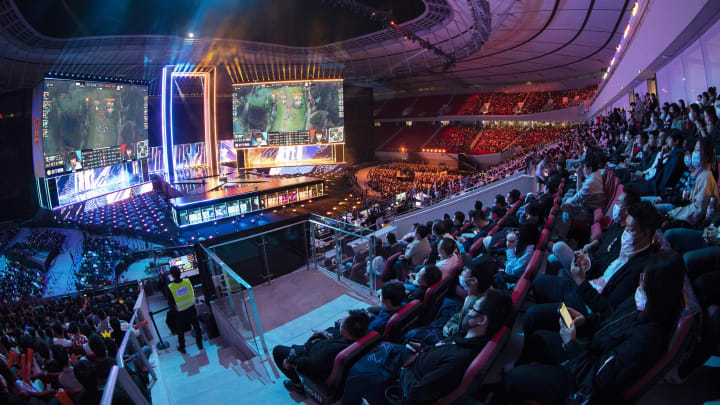 The 2020 League of Legends Worlds Finals / Photo courtesy of Riot Games
Many experts in the esports industry have been debating whether the esports market has evolved into a bubble. With money pouring into esports and related companies at a rapid and increasing rate, some have begun to question whether these investments are justified. 
Are these investments sustainable? Are the majority of companies overvalued? Are investors sticking to fundamentals when evaluating their opportunities, or are they simply speculating and gambling on a get-rich-quick scheme? Is the market bound to collapse? These are some of the questions that many have sought to answer.
The Dot-Com Bubble
On October 13, 1994, Netscape launched Mosaic Netscape 0.9, its first web browser. By February of the following year, the company had acquired roughly three-quarters of the web browser market. To capitalize on this success, Netscape made a historic initial public offering (IPO) on August 9, 1995. Within the first day of trading, its stock price doubled.
Netscape's IPO marks the beginning of the dot-com bubble, a situation that was caused by excessive speculation in internet-based companies. During this period, a frenzy of investment took hold of the market, as investors were lending overwhelming amounts of money to dot-com startups. As the number of these companies began to expand, the internet craze intensified.
While some dot-com companies could justify the amount of capital they were accumulating, the majority of these startups failed to establish reliable business models. Consequently, they were often overvalued. The rapidly growing demand for dot-com stocks inflated share prices, leading to the formation of a bubble.
The question then remains, has the esports market turned into a bubble? Is esports on the same path as the early 2000s dot-com industry? Are investors simply gambling when they pour millions of dollars into esports organizations?
Is an Esports Market Correction on the Way?
According to an article from Sports Business Journal, "esports insiders are increasingly convinced that many team organizations are overvalued and a market correction is coming." Data provided by Forbes on the most valuable esports companies in the world reveals a sizable gap between the value and revenue of these organizations.
The numbers from 2020 show that the average revenue multiple, the extent to which value exceeds revenue, of the top 10 most valuable esports companies lies around 9. As an example, the current value of T1 exceeds its revenue by a multiple of 10, while Cloud9's value exceeds its revenue by a multiple of 11.7. There has been a shift in these numbers, as a Forbes report on the 12 most valuable esports companies in 2018 shows that the average revenue multiple once lied around 14. 
"I think this shows that investors don't expect immediate profits, but are investing in esports aiming towards the long-term future, 15-20 years from now...P/E ratios in esports are nowhere near the value we see for example in the electric cars industry," said Guilherme Arten-Meyer, Co-Founder and CMO of DraftBuff, a rising fantasy esports platform. "Yes, the evaluations are high, maybe a bit too high, but considering the current status of the entire stock market in general, we shouldn't be surprised."
An article by Josh Chapman of Konvoy Ventures reveals that sports franchises are typically worth five times more than their revenue, while for tech companies the multiple is 10. Based on this, Chapman believes "that to sustain these multiples, esports organizations will have to shift their underlying business models away from traditional sports monetization strategies and towards scalable and technology-driven revenue streams."
This shift seems to be occurring slowly, and a great example is Team Liquid. In addition to having teams and players competing across 17 different titles, such as League of Legends, Fortnite, and Dota 2, the esports organization runs a video production studio, 1UP Studios, an influencer management media agency, Liquid Media, an esports wiki, Liquipedia, and a fan-engagement platform called Liquid+.
Another example of a company that has diversified its business is 100 Thieves. On its website, the organization describes itself as "a premium lifestyle brand and gaming organization." They recently launched an apparel collection, Enter Infinity.
FaZe Clan, one of the most popular gaming and esports organizations in the world, claims to hold "an unrivalled position at the epicentre of gaming, sports, culture and entertainment, driving how the next generation consumes content, plays and shops", according to their Linkedin page. Its roster of 85 personalities is made up of "world-class gamers, engaging content creators and a mix of talent beyond the world of gaming." FaZe Clan also states that it "has become a sought-after fashion and lifestyle brand through an inspired apparel line and limited-edition collaborations with partners including Champion, NFL, Manchester City FC, Lyrical Lemonade, Kappa, CLOT, LA Kings, and more."
If esports companies are able to diversify their business strategies and take part in other ventures, not just competitive gaming, it seems that their valuation numbers could be justified. According to Omri Wallach, a writer at Visual Capitalist focused on tech and business trends, "it's this greater ability to diversify, and the still-increasing size of esports fandom, that continues to grow esports valuations."
Investments in the esports industry are not about the short- or medium-run. Instead, the potential winnings provided by the majority of these ventures lie in the long run. This should soothe some who are worried that a major correction is coming to the esports industry. Additionally, market corrections should be expected for new and developing markets and do not necessarily indicate that the industry is set to collapse in the long run. Although a bubble may have already formed within the market, the effects of it bursting should only have a temporary impact.
Sports Business Journal interviewed Josh Swartz, president and co-founder of Catalyst Sports & Media, a firm that provides strategic advice to investors and brands looking to enter the esports industry. In the interview, he stated that "you don't care what happens in the next three years, you care what happens in the next 30 years." Swartz also claimed that "these are not structural long-term problems, just from a valuation perspective, some teams grew way too fast."
Although the esports industry features an ecosystem that encompasses a variety of different game titles, leagues, and organizations, the unraveling of a particular franchise or company should not spell doom for the whole industry. There may be enthusiasm in the market, but not all esports companies are built, valued, or hyped in the same way.
In an interview hosted by Esports Insider, Mike Sepso, co-founder of MLG and CEO of Vindex, shared some of his thoughts regarding the existence of an esports bubble. He believes that "part of the problem with this idea that the entire industry is unsustainable is that you can't really correlate between teams and other startups; plenty of startups are doing just fine." Sepso also claims that while "valuations of some esports teams are definitely ambitious, it's not necessarily reflective of the space as a whole."
The financial mismanagement or overvaluation of certain esports organizations and leagues should not indicate a point of instability for the entire industry. Esports titles each have a specific niche audience with varying demographics. Not all leagues are franchised, and each one operates in a particular way.
One way to illustrate the issue with generalizing esports ventures is with traditional sports. It would be hard to say that financial, legal, or viewership issues in the NFL would bleed into the UFC. While some may argue that Blizzard Entertainment's management of its competitive Overwatch scene has induced a bubble, as massive investments have been pouring into Overwatch League, such as the $50 million Fusion Arena, many agree that Riot Games has run its League of Legend esports scene quite smoothly.
With all of this in mind, it seems that there are pros and cons surrounding the state of esports and different ways of gauging the extent of the industry's shortcomings, but the massive long-run potential offered by the ecosystem provides reasons to lean towards optimism.
The Potential of the Esports Industry
Newzoo is a renowned provider of data and analytics related to esports and games. The company describes itself as "the world's most trusted and quoted source for games market insights and analytics", and they "help some of the world's largest entertainment, technology, and media companies to target their audience, track competitors, spot opportunities, and make strategic and financial decisions." The following are some key takeaways from their 2021 Global Esports & Live Streaming Market Report:
"Global esports revenues will grow to $1,084 million in 2021, a year-on-year growth of +14.5%, up from $947.1 million in 2020."
"The global games live-streaming audience will hit 728.8 million in 2021, growing +10.0% from 2020. It will grow to 920.3 million by 2024…"
"Globally, the total esports audience will grow to 474.0 million people in 2021, a year-on-year growth of +8.7%."
"In 2021, $833.6 million in revenues—over 75% of the total market—will come from media rights and sponsorship. This will grow to $1,185 million by 2024."
With esports' global revenues and audience rapidly growing, it is easy to see why many are keen to become involved with the industry. Several investors have turned their heads to esports as they see room for growth in the market. Consequently, venture investments in esports are rapidly growing. Quantum Tech Partners revealed that esports companies raised $2.3 billion in 2020. The current ecosystem is currently in the process of development, and many are betting that it could evolve into something more stable.
With growing audiences, positive revenue growth, and rising viewership numbers, it seems that there is certainly untapped potential within the industry. The key to whether the esports market continues to thrive lies with these trajectories, and the esports landscape in China offers some hope for the future.
China's Esports Boom
China hosts the largest esports market in the world and could hold the key to unleashing the potential of the esports industry. According to a report from Newzoo, the number of esports enthusiasts in the country will grow to 92.8 million and "will generate more than a third of worldwide esports revenues" in 2021, making it the largest esports market in the world in terms of revenue. 
Another positive trend in China's esports market is the government's increasing interest in the industry. In December of 2018, The Esports Observer reported that "the Xi'an government announced its plans to reward a maximum of ¥100M RMB ($14.52M USD) to esports relevant companies, in order to support the industry in the city." According to Jerome Heath of Dot Esports, in January of 2019, "China's Ministry of Human Resources and Social Security (CMHRSS) announced 15 new professions...including 'esports professional' and 'esports operator.'"
It should come as no surprise then that China's esports industry is currently seeing an influx of capital. Although the majority of the money lies with game publishers, there are also leagues, teams, livestream platforms, and facilities that make up a portion of the Chinese esports ecosystem. 
A diverse set of ventures are coming to fruition that emphasizes the growing interest of esports in the country. In particular, the rapid rise of investments into esports venues emphasizes the robustness of the Chinese esports ecosystem. These projects seem to be justified by the demands of a growing audience and are set to raise the industry to new heights.
The League of Legends Pro League (LPL), the country's premier League of Legends competition, currently hosts its matches across six different venues. Five of them belong to different teams, while another one is owned by the LPL itself.
The country has also seen investments into massive esports centers. In 2018, the Zhongxian E-Sports Stadium, a sports venue built exclusively for esports that can hold 20,000 fans, opened its doors to the public. The city of Hangzhou built a $280 million "esports town" which spans 3.94 million square feet. Hangzhou's government also announced its goal to construct 14 different esports facilities by 2022, including an esports academy, hotel, theme park, business center, and hospital.
A more recent development, which was announced in January of 2021, is the Shanghai International Culture and Creative Esports Centre. The project was established by SuperGen Group, the parent company of Chinese esports organization Edward Gaming (EDG). SuperGen Group expects to complete the project, which will require a total investment of $1.55 billion, by 2023. It will contain, among other things, EDG's offices, a venue, an esports-themed hotel, and an indoor skydiving attraction.
On April 7, Bloomberg reported that Tencent Holdings, a multinational conglomerate that has fueled China's esports boom, is set to invest in a billion-dollar arena. "The world's largest games publisher has invested billions of dollars in talent agencies, streaming sites and tournament organizers to create the infrastructure necessary to turn pro gaming from a niche into an instrumental part of its growth strategy."
China will certainly become the hub of esports, if it is not already. Its esports ecosystem, with support from the government, a growing audience, and a rise in investments, is set to flourish within the coming years.
The Rise of Esports Betting
There are also other actors in esports who are optimistic about the industry. With the arrival of the COVID-19 pandemic, esports betting experienced a boom in 2020. As a result, new companies and investors hoping to expand the esports gambling sector have made their way into the market.
The number of esports betting startups and traditional betting companies becoming involved with esports has increased within the past year. Esports betting companies amassed a total of $1.80 billion in 2020. Some of the key actors in this sector of the industry include DraftKings, Esports Entertainment Group, FansUnite Entertainment, Skillz, Luckbox, and Golden Nugget Online Gaming. Newzoo states in their 2017 Global Esports Market Report that this market has tremendous potential to grow and that "it's possible that esports betting alone is larger than the esports economy itself."
FansUnite Entertainment is one of the rising companies in the esports betting industry. They describe themselves as "a sports and entertainment company, focusing on technology related to regulated and lawful online sports betting and other related products." Donnie Mitchell of The Sports Geek stated that "from March to September 2020, Euros wagered through FansUnite's B2B solutions have increased 650% from the same period last year."
Another rising leader in the market is Esports Entertainment Group (EEG), an esports and online gambling company. They claim that "from traditional sports partnerships with professional NFL/NHL/NBA/FIFA teams, community-focused tournaments in a wide range of esports, iGaming and casinos, and boots-on-the-ground LAN cafes, EEG has influence over the full-spectrum of esports and gaming at all levels." On March 25, they announced a deal with the Denver Broncos. Using EEG's Esports Gaming League platform, the company will run esports tournaments for the team. They also recently expanded their efforts to Latin America, where their VIE.bet brand partnered with Infamous Gaming, Peru's largest esports organization.
With esports betting on the rise, it seems that the esports ecosystem is beginning to expand its roots. Although some of these gambling companies, such as DraftKings, have offerings outside of esports, the others have focused specifically on this market and are confident that esports will flourish for many years to come. Some may consider this a risky move since they are betting on an industry that seems to lack professionalism, has yet to mature and is built around organizations and companies that have yet to establish a reliable business model.   
The question then remains, is the rapid growth of the esports market sustainable in the long run? Are there clear signs that the market is overheating?
Is There an Esports Bubble?
The question of whether an esports bubble exists is ultimately hard to answer directly. To put it frankly, we simply do not know. As was shown by the dot-com bubble, investors and companies only realized that the market was set to collapse after it was already too late. 
With rising revenues, a growing audience, and increased investment. The esports industry continues to grow each year. Streaming platforms have seen substantial growth in total hours watched, with an 83% increase from 2019 to 2020. Esports organizations are diversifying, establishing better business models, and seeing their revenue multiples decline. Franchised leagues are becoming more common, allowing for better opportunities. Esports betting companies are sprouting. A variety of multi-purpose esports centers and venues are coming to fruition. As China has shown, even governments have begun to jump on the esports hype.
Is esports currently a bubble that will burst and topple the industry? Will organizations, companies, and leagues who make poor business decisions and unjustifiable investments spoil the fun for the rest of the market? Can they sustain their business models in the long run? Are the projections from analytics firms inflated or misleading?  
Only time will tell if a strong market correction is on its way, and even if this is the case, it should not spell doom for the entire industry. In the end, it seems that the data and recent developments point to the fact that there is a bright future ahead of esports.