Top Games
The Fighting Game Community Vs COVID-19: A New Underdog Story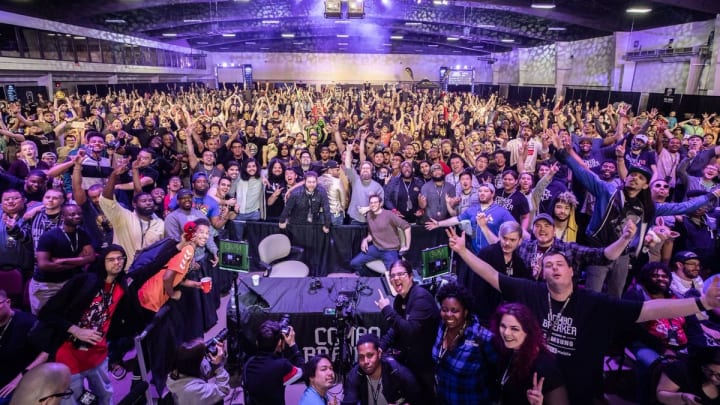 A pre-pandemic photo from Combo Breaker 2019, showing the size, diversity, and community of the FGC. / Photo from Combo Breaker
Simply put, 2020 was a rough year for just about everyone. Numerous industries, interests, and careers were put on hiatus with their futures in danger amid the COVID-19 pandemic. Industries such as food, cinema, and live events were drastically hit and a fully packed restaurant, movie theatre, or music festival seems like a distant memory just over a year later.
The afflictions of COVID-19 on esports were similar to that of other industries that entail large gatherings. Professional gaming and esports were hit with an impasse when they could no longer hold in-person events, namely tournaments and gaming league seasons. 
The world's largest competitions feature substantial prize pools and attract players and teams from across the world, which came into conflict with intense travel restrictions in many nations. Social distancing also made it impossible for players to safely meet up in large numbers, whether it was for local events or large-scale tournaments. Most of the premier esports were able to return in an online format, but not all games have the required netcode infrastructure to do so.
A Brief Introduction to the FGC
One of the smaller gaming communities that were hit especially hard by COVID-19 was the Fighting Game Community, more commonly known as the FGC. The FGC is a massive group of gamers that welcomes players of any sort of fighting game, from mainstream staples like Mortal Kombat and Tekken to hidden gems like Guilty Gear and Killer Instinct. Over the years, the FGC has grown from a grassroots movement to a rising force in esports.
Like other esports, the FGC had to put all tournaments and other live events on hold due to the pandemic. For a lot of top players, this removed a lot of money from the table that they could potentially earn; more importantly, it also stripped the FGC of its most important element: the community. Not only could people not meet up to play their favorite games, but many members of the community have outside jobs that they might have lost, stripping them of their entire livelihoods.
The first major blow dealt to the FGC at the hands of COVID-19 was the cancellation of Final Round and Combo Breaker, two of the largest fighting game tournaments in the United States and two of the first Majors in the calendar year. The community was devastated to have had two premier events taken from them and knowing that more was to follow. More cancelations followed, and before long it was announced that EVO, the world's largest fighting game event, would be canceling its offline tournaments.
I talked to Reepal "Rip" Parbhoo, a Tekken 7 player, tournament organizer, on-air personality, and founder of Level Up Your Game, one of the oldest content channels in the FGC. I asked him about his initial reactions when Combo Breaker and other major events were canceled:
"I'm a fairly optimistic person, but it was clear to me pretty early that things were NOT going to be back to normal anytime soon. With Combo Breaker 2019 having one of the most exciting Tekken Top 8's of all time, I was very disappointed about the cancellation, but it was inevitable. I was actually in Japan in February 2020 to announce the plans for the 2020 Tekken World Tour just weeks before the lockdowns began. To see the entire TWT 2020 fall apart like that was pretty demoralizing at the time."
Combo Breaker 2019 boasted arguably the greatest Tekken 7 tournament of all time, with a number of exciting matches throughout the bracket. With three Americans in the Top 8, the home crowd was roaring to see their country's best players take on the best the world had to offer. The Grand Final saw Korean Tekken legend Jae-Min "Knee" Bae take on America's Hoa "Anakin" Luu, with Knee fighting from the Loser's Side of the bracket.
The Initial Impact of COVID-19 on the FGC
When news broke of Combo Breaker's cancelation, it not only devastated the Tekken scene, but that of every other fighting game as well. Combo Breaker includes tournaments for nearly every fighting game and is a featured stop on the Capcom Pro Tour, Tekken World Tour, and NRS Pro competitions. Combo Breaker 2019 was host to a number of exciting events, including the official debut tournament for Mortal Kombat 11.
One of the last major fighting game events that took place offline in 2020 was Final Kombat, the championship tournament for the 2019 Mortal Kombat 11 Pro Tour. The event was held in Chicago on March 8 shortly after the initial wave of shutdowns was implemented throughout the country. Rather than canceling the event, Netherrealm Studios (NRS) decided to continue without a live audience and it succeeded without incident.
The cancellation of all offline events for the foreseeable future put a halt to several professional fighting game circuits. The return of the highly popular Tekken World Tour had to be canceled outright, along with the inaugural year of the anticipated Soul Calibur World Tour. The only major fighting game to not cancel their season was Capcom's Street Fighter V, which moved entirely online with mixed reactions from the community.
To the vast majority of the FGC's dismay, Capcom's route of moving the Capcom Pro Tour online was the only option to keep playing their favorite games. In offline events, fighting games are often played on the same console and usually on the same screen to ensure that no input delay exists in the matches. Fighting games hold their roots in arcades and game cafes and are inherently designed to be played offline.
The Online Dilemma
When playing online, most fighting games use delay-based netcode, which can be problematic when timing and lightning-quick decisions can be the difference between victory and defeat. To the casual player, this might not be too noticeable, but for pro-level players, it drastically changes the nuances of the game. This was a telling issue in the early days of the pandemic since a game's delay-based online gameplay can be so different from that of offline that it can feel like playing two entirely different games.
Tekken 7 in particular was a game that had considerably poor delay-based netcode. Often described as "playing the game underwater," many of the game's players saw little reason to continue playing online, especially on PS4 and Xbox One. Along with the cancellation of the 2020 Tekken World Tour, the game's poor online experience began to derail all the momentum that Tekken 7 had built up since its 2017 console release.
Mortal Kombat 11, on the other hand, has perhaps the best online experience out of any modern fighting game thanks to its use of rollback netcode. While not nearly as smooth as offline, MK11's netcode offers as close an experience to offline that a fighting game could offer during the COVID-19 shutdowns.
I talked to Ryan "Mr. Aquaman'' Kablik, one of the best-known commentators in the FGC who specializes in the NRS (Mortal Kombat and Injustice) Pro series. I asked him about his feelings following Final Kombat given the uncertainty around the FGC's future with offline events, and he was actually encouraged that MK11's online would hold up during the pandemic:
"I think that someone like me had an initial reaction quite different from others. I had been in a fortunate position for a few years where a large bulk of my work was in online events with NRS titles. I knew our community was in a great position to survive, if not succeed, when there was a massive switch to online. That was one thing the MK community had going for it was an already established online competitive community and an amazing netcode to compliment it, so I had a feeling we would be alright!"
Mr. Aquaman explained what kind of advantages MK11's netcode gave it over other fighting games:
"I think what gave MK11 the biggest advantage is that we already had years of online competition established. Starting with the MKX Pro League and what ESL established, which I helped run, there were five or six 10-week-long series over the years that lead up to MK11's release. The online demand that was created really gave our scene an advantage going into COVID that other scenes had to start with from scratch."
Fighting Through the Odds
Even with vastly different online netcodes, both Tekken 7 and Mortal Kombat 11 managed to maintain enough interest for online tournaments to emerge. Almost all online FGC tournaments early in the pandemic were hosted and sometimes funded by members of the community. This differed from offline competitions that tended to be run by event organizers or the developing and publishing companies backing support for the game.
Thanks to its superior netcode, Mortal Kombat 11 was able to adapt faster to and there were many online tournaments held during the summer of 2020. This eventually gave rise to a number of high-level online events put on by renowned members of the community, such as Justin "Destroyer" Ortiz's Champions of the Realms and Frank "Slayer" Amaral's 2v2 Tournaments.
Mr. Aquaman has run a few online tournaments himself during the pandemic, including the Kolosseum Series.
"My motivation for The Kolosseum was really simple initially. The company I had been running series for had gone under and I decided to pick things back up on my own and do things my way. Before that company, I had run offline events for a while so I was getting back to my roots a bit returning online. What separated this event apart from others was the gut feeling that crowdfunding would go very well, and we raised nearly 10k from a budget of 0 dollars, so that's not too shabby! The biggest obstacles you face are having to work around the many other events going on in the community, but that's a great obstacle to have."
Mr. Aquaman's story of running the Kolosseum Series is similar to that of others in the FGC. When jobs, partnerships, and other opportunities were lost to the pandemic, many members of the community took matters into their own hands. With little support from the competitive esports industry, it was up to the FGC to keep their favorite pastimes alive.
"I think everyone found themselves in a similar position when COVID started, which was figuring out what to do next," continues Mr. Aquaman. "After my Kolosseum series, there was a void to fill for something consistent. I think a lot of content creators saw the success of something like The Kolosseum, with the little resources I was able to do it with, and started organizing their own events. Shortly after even I was surprised with how much of a BOOM there was in tournaments!"
Mr. Aquaman has continued to commentate for their own online tournaments and others during the pandemic.
"This is an amazing question. The commentating from home experience has really hindered just how hype I can get. That would be the most difficult aspect of it; I live in an apartment and if I get too loud I might get deleted. In that regard, it definitely helped me transition to a more analytical style of commentary, and that I struggle to find a defined style commentating with what feels like multiple other commentators every event. People also love the setup and the massive collection of stuff I've accumulated over the years that sits behind me!"
The Super Smash Scenario
Though often seen as having different communities, the Super Smash Bros. games are by all means in the fighting genre. Though they rarely come together and sometimes express genuine animosity toward each other, the Smash scene had to deal with many of the same problems as the FGC in 2020. Super Smash Bros. Ultimate was set to kick off its inaugural Smash World Tour, which ended up having to be entirely canceled for the year.
The Smash community also chose to continue tournaments and other events online, but Ultimate is notorious for having the worst netcode of any fighting game. This was evident after EVO decided to remove Ultimate from the game lineup after the tournament switched entirely online. Few members of the Smash community spoke out against the ruling, as most agreed that the game's netcode would have drastically impaired such a high-scale tournament.
Ultimate's netcode issues are usually attributed to the Nintendo Switch's lack of online-friendly hardware and Nintendo's disinterest in improving online play despite community outcry. This culminated in 2020 when #FixUltimateOnline was the most trending topic in the Smash community. The game has had a slight improvement to its netcode in that time, but it is still among the worst of all fighting games.
While Ultimate's online is seen as far below standard, its predecessor by 17 years is considered to have some of the best netcode around. Super Smash Bros. Melee originally came out on the Nintendo GameCube in 2001 and has never had online gameplay through the console. However, the game has become playable online through an emulator program called Slippi, featuring rollback netcode that allows players to connect from all across the world.
The Melee community has had a mostly smoother online experience than Ultimate during the pandemic, but they are still suffering from a lack of recognition and support from Nintendo. In November 2020, The Big House, set to be one of the largest online Smash events of the year, had to cancel its online tournaments for both Melee and Ultimate after being sent a Cease & Desist letter from Nintendo. The company was against the use of Slippi and unlicensed copies of Melee that were planned on being used to play matches.
The Smash community and FGC have dealt with similar issues during the pandemic, but Smash has been hit harder by Nintendo's general lack of support and neglect of improving Ultimate's online gameplay. The Smash World Tour finally got to start in March 2021 in an online format, with regional tournaments in both Ultimate and Melee. The Tour is not affiliated with Nintendo and is organized by VGBootCamp, the largest independent organizer of Smash tournaments both offline and online.
A New Era for Tekken 7
Rip was one of the first members of the Tekken scene to hold online tournaments, moving the longstanding Wednesday Night Fights locals online. WNF is historically held offline at Esports Arena Orange County in Santa Ana, CA as a weekly gathering for the area's best players.
"Well, we lost our offline venue so there was really no other choice; it was either online or nothing. I talked to the guys involved and everyone wanted to at least try running an event online. Our brackets were already being created online so that wasn't very different. However, the offline standard was always PS4 Tekken and online the PC version has always felt superior to me. The issue with PC was that Tekken on STEAM requires you to be friends with people to invite them to games, which really slows down the online matching process. We figured out how to use Steam Groups to work around this so you don't have to add people as your friend or search through the open sessions. Training players to use new features like this takes a lot of time and most still don't know this is an option over a year later!"
Similar to Mr. Aquaman, Rip was left without much support in keeping WNF Tekken alive so he had to resort to handling it himself. Fortunately for him he had help from friends and fellow Tekken players like Michael "Suiken" Khieu, Michael "MYK" Kwon, and Richard "Rickstah" Uehara. The four friends were almost always present for every online WNF and their chemistry provided viewers with more than just Tekken action during the broadcast.
Tekken 7 Revamps Its Netcode for Season 4
In November 2020, Tekken 7 saw a huge change when the netcode was vastly improved for Season 4. This gave new life to the game's online scene and enticed some players who had fallen out of favor with Tekken 7 to rejoin the fray.
"The netcode change was huge. There is still room for improvement, but when season 4 launched, the netcode was amazing. When we initially moved to online tournaments we still limited the regions that could enter to southern California. Then we expanded to Vegas and Arizona. Since WNF also had a NorCal online event, we excluded Northern California but allowed Washington State and Oregon, which made no sense. Once the netcode was available, we could run the tournament across the entire USA."
The new netcode for Tekken 7 connected players online like never before, allowing them to play with each other from other parts of the world with minimal lag. Players in the US could now play against people in Asia, Europe, South America, and more. Like all fighting games, Tekken is incredibly global and is popular in all regions of the world.
After the improvement to Tekken 7's netcode, Rip was able to lift the area restrictions on his WNF online series. While before Season 4, only players on the west coast could compete in WNF online, now all players in North America could enter. WNF eventually evolved into ICFC, short for InterContinental Fight Club.
The Story of ICFC
ICFC retained much of WNF's core players while adding many more from throughout the United States, Canada, and Latin America. The success of ICFC, thanks in small part to the improved netcode of Tekken 7, led to the brand expanding overseas into Europe and Asia. Rip explained how this project came about and if he ever meant for it to become global.
"I was approached by ten/o Media about the idea of making Wednesdays a Tekken locals day internationally. In the US FGC, we have had WNF and NLBC (Next Level Battle Circuit, the New York FGC locals) forever, but Tekken was rarely a featured event at either. From a financial perspective, LUYG had always been running WNF out of our own pockets, essentially in exchange for access to the venue. Logistically, we were already running 95% of everything ourselves offline. So once everything moved online, there really wasn't anything tying LUYG to WNF anymore. With ICFC, the idea was that we could provide at least some compensation to everyone by bringing on sponsors directly, while at the same time also making Tekken a featured event on an international scale. It certainly was an ambitious goal and requires a tremendous amount of effort from everyone involved, but so far, it seems to be doing very well!"
With no reason to hold on to the Wednesday Night Fight branding, Rip and ten/o Media collaborated to form their own new brand of tournaments. ICFC has arguably become the premier source for pro Tekken 7 competition, along with AfreecaTV's Tekken League in South Korea. ICFC just recently finished up their Season 1 Finals after an eight-week long series of qualifying tournaments and began Season 2 the following week.
Players Continue to Break Out Online During the Pandemic
There have been a number of rising stars that have broken out online in the FGC during the pandemic. Many undiscovered players are not able to travel across the world to tournaments throughout the year and must earn their reputation online. This method used to be seen as invalid, but now that both professional players and aspiring pros can only play over netcode, some "online warriors" have proven that they can compete with the best.
Perhaps Tekken 7's breakout star during this time has been Glaciating, an 18-year old player from Kansas City. Glaciating had competed against professionals online before the pandemic, but events like ICFC gave them their first chance at consistent high-level competition. Rip spoke on Glaciating and the other stars that can be seen in the US, EU, and Asia ICFC series.
"From the online WNF days, Binchang was really the biggest name made. He became a sponsored player for NFinite in this time primarily through competing and doing as well as he did throughout all of the online events. Glaciating, without a doubt, has always been one of the biggest names to look out for in the scene. He is the future if he chooses to be. PhiDX has also made a big name for himself in recent months. In the EU, K-Wiss ended up winning the first season while also commentating it. As a fellow player/commentator, I can see the spark that has been lit there and he is in prime position both age and skillswise to make waves in the future. In Asia, there are a TON of regular big names that show up. It's pretty ridiculous to be quite honest! Chanel, Book, Youjin_boy are all regulars out there that are doing well."
The Validity of Online Compared to Offline
At the ICFC Season 1 Finals for North America, the players who finished Top 4 were all established offline competitors who had proven their skills on the biggest of stages. Given that the final results of ICFC Season 1 mirrored that of an offline tournament, Rip explained the validity of online competition.
"Anything with the internet involved isn't going to be as perfect as an offline event. That being said, we have never had a better time for online tournaments with Tekken. Without a doubt, the best part about online tournaments for me is that you still feel tournament nerves and pressure. For anyone who wants to one day compete offline, online tournaments are essential practice. With so many FGC developers putting a heavy focus on rollback netcode I think that online tournaments will only become more valid."
Rip even dove into the topic of players playing strictly online and the difficulty of translating that to LAN succes.
"The only thing REALLY lacking online is the crowd around you making noise for or against you. Other than that, dealing with the nerves of doing something for the first time offline can also be an issue. When you compete in online tournaments, you learn to keep your composure in tense moments in the game. Playing on stream in an online tournament is an extra level of pressure for some, and playing against an opponent offline in a tournament for the first time will be a new level of pressure. Playing on stage in an offline tournament for the first time will be another level of pressure and playing in a Top 8 on stage in an offline tournament for the first time will be another level, etc. The good news is that tournaments like ICFC already prepare you for a lot of this. With over 100 players per tournament, it's so hard to get into the top 8 and be featured on stream that you kind of simulate that progression of pressure."
WePlay Dragon Temple
The Mortal Kombat community received a refreshing taste of offline normalcy in December when WePlay Esports hosted WePlay Dragon Temple, by far the largest offline event since the beginning of the pandemic. The invitational tournament featured 14 of the game's top players competing across three days for a $50,000 prize pool. WePlay pulled out all the stops to bring Dragon Temple alive with an extravagant display, Mortal Kombat-themed decor and live performances like nothing that had been seen before.
Mr. Aquaman was fortunate enough to attend the event as a commentator and shared some of his experiences with me.
"It was a pretty emotional week that is for sure. For almost everyone there it felt like therapy to be around that setting again. There was nothing but the greatest of vibes in that arena and practice room! I think that everyone watching got to feel that vicariously and I hope it helped shed some light on the community because there has been a lot of negativity that has come with us primarily being online and on Twitter without that experience."
Mr. Aquaman also spoke about the testing, protocols, and other safety measures that were taken at an offline event during the heat of the pandemic.
"The protocol was super straightforward. Testing was required before flying to Ukraine, upon arrival, and before departure. We were not allowed to interact with each other until all tests came back negative for COVID and health insurance was provided for the entire trip. They also took care of all travel, food, etc which made the entire trip near effortless and safe since we didn't need to interact with anyone but the group and staff really."
One of the players invited to WePlay Dragon Temple was Arsam "AVirk" Ahmad, a young Canadian player who broke out on the online Mortal Kombat scene during the summer of 2020. Dragon Temple was AVirk's first offline event ever, in which he advanced past the grueling group stage to Top 8. He was eventually eliminated in Loser's Quarterfinals in a grueling 3-2 set with Wellington "Konqueror" de Castro, but he proved that his skills transferred from online to offline. Based on AVirk's performance, I asked Mr. Aquaman his thoughts on how successful online players could be once offline events return.
"Most of the communities' top players have mostly come from an online setting. Back to us having a history of online events, most of the current generation of players were kind of born into it in a sense. Semiij, Tweedy, Kombat, and many more either got their start or had their first big performances online before moving to an offline setting, and more times than not that experience transfers over quite well. We breed champions online baby!"
Encouraging Signs for the Future
The success of WePlay Dragon Temple showed that offline events are still possible in a pandemic, but the invitational format definitely limits their true potential. Before the pandemic, nearly all FGC events were open for anyone to enter, regardless of skill level or popularity. Unfortunately, it still appears that offline events of that stature will have to remain unavailable for the millions of fighting game players around the world. I asked both Rip and Mr. Aquaman what measures will have to be met for offline events to return at full capacity, and how they thought that turnout might be now that so many new players have emerged during the pandemic:
"If my experience in Ukraine is anything to go by I would say that once the first offline events start getting announced and the vaccine has spread. We could start seeing normalcy soon but it's still high hopes. As far as turnout and consistency I know for a fact everyone wants and probably needs both the offline competition and interaction at this point. Covid has had a massive effect on everyone mentally and I know from experience that even a small 16-player offline event helped me beyond words, and it's something I wish everyone could experience again. If we reach that soon is hard to say, but I think that these well-facilitated smaller offline events are the perfect start and gives us all hope at the end of the day."
WePlay has actually continued their success from Dragon Temple with Ultimate Fighting League, a series of fighting game competitions in a similar four-day format. Season 1 of WePlay UFL featured MK11, Tekken 7, and Soul Calibur VI in three consecutive weeks. With those events just wrapping up, WePlay still has more offline events in-store and is doing a lot to inspire hope for the FGC going forward.
While offline fighting game competitions have been dearly missed, Rip actually suggests that if developers continue to emphasize improving their netcodes, online tournaments could become legitimate counterparts to offline events.
"I really don't know what to expect when offline returns. On one hand, online tournaments are bigger than they have ever been. Will online tournaments be the new normal for the FGC? Ten years ago that seemed impossible, but I feel like we are at the turning point right now. On the other hand, offline is the preferred method of competition at the highest level of the game.  Offline events are tons of fun, but they're also expensive to travel to and attend. I can see a future where qualifiers are online and offline events are invitational or league-based. I sure hope things become bigger than ever when the pandemic is all behind us."
Open offline events are still some time away, so players still can't enjoy their favorite games the way they were meant to be played; not just offline but in each other's company. Still, it has been encouraging to see the FGC fight through turbulent times and show their perseverance and fortitude. Rip has been active in the FGC long enough to see it grow from its grassroots foundation into an exhilarating esports category and open careers for many individuals.
Since the FGC's success during the pandemic has been largely due to community effort, Rip reminisced of the FGC early days and how the current landscape matched that early brotherhood.
"That's a funny question because, to me, the majority of what we do is still primarily grassroots. I've seen the FGC cross with eSports on so many occasions and the only thing that's consistent is that it's inconsistent. When I first started competing and older players stepped out of the scene, no one was running tournaments anymore and I missed them. So I started posting online in our forums, I printed paper brackets, and I started running them myself. Ultimately, when something you love from a gaming scene doesn't exist anymore, it's up to you to step up to fill the gap or you'll let it fade away. It's why I started streaming our tournaments at WNF.  It's why we kept it going online during the pandemic. And now because of that effort, ICFC is here and is doing amazing. I want to see Tekken 7 and the FGC grow even more, but if one day it all goes away and people miss it, then I hope someone else steps in and makes something even better!"