The Legend of Zelda Video Game Merch Black Friday Deals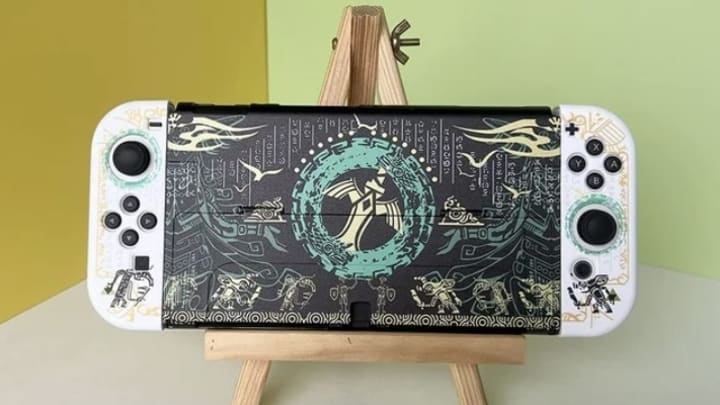 This gorgeous case is on the list! / Beauare
We've already covered many deals for Xbox, PlayStation, and Nintendo Switch players. Some of you may want to catch specific bargains for one of the biggest franchises in the video gaming industry: The Legend of Zelda. Whether shopping for a gift or splurging on merch, there's something here for every Zelda fan!
The Legend of Zelda Video Game Merch Black Friday Deals
The retailers below include Walmart, Target, Game Stop, and Hot Topic. We categorized each item into four sections: books, clothing, figures and amiibos, and others.
Books
Nintendo Legend of Zelda Official Sticker Book / Nintendo
The following books don't have discounts, but a buy two get one free option is available at the retailer.
Nintendo Legend of Zelda Official Sticker Book - $7.99

Legend of Zelda: Link's Book of Adventure - Available for pre-order for $9.99

The Legend Of Zelda Encyclopedia - $21.93

The Legend of Zelda: Breath of the Wild The Complete Official Guide - $22.99
Clothing
Men's Nintendo The Legend of Zelda Tears of the Kingdom Game Logo T-Shirt / Nintendo
Men's Nintendo The Legend of Zelda: Tears of the Kingdom Game Logo T-Shirt - $17.96

Men's Nintendo The Legend of Zelda: Tears of the Kingdom Game Poster T-Shirt - $17.96

Men's Nintendo Legend of Zelda Majora's Mask Design T-Shirt - $17.96

The Legend Of Zelda Link Jumbo Graphic Tie-Dye Boyfriend Fit Girls T-Shirt - $26.90 (can get 30% off through online purchase)

The Legend Of Zelda Chibi Characters Boyfriend Fit Girls T-Shirt - $25.99 (can get 60% off through online purchase)

The Legend of Zelda Leafy Link Girls Slouchy Sweatshirt - $36.90 (can get 30% off through online purchase)
Figures and Amiibo
Amiibo Link The Legend of Zelda Series / Nintendo
The Legend of Zelda Breath of the Wild Link 4-inch Action Figure with Soldiers Broad Sword - $20.20

The Legend of Zelda Breath of the Wild Zelda 4-inch Action Figure with Sheikah Slate - $12.32

Amiibo Link: The Legend of Zelda Series - $36.90

Toon Link Amiibo Super Smash Bros Series Wind Waker Legend of Zelda Nintendo Switch - $31.97

Twilight Princess amiibo The Legend Of Zelda Breath of the Wild - $39.99
Others
The Legend of Zelda Princess Zelda Wallet / Danielle Nicole
Legend of Zelda 2024 Wall Calendar - $14.39

The Legend of Zelda: Tears of The Kingdom Cover Case for Nintendo Switch OLED with Scratch Resistant Shells for Joy-Cons - 13.49

Link Breath Of Wild Bow and Arrow - $24.99

The Legend of Zelda Princess Zelda Wallet - $13.98

The Legend of Zelda: Breath of the Wild Travel Wallet - $13.98