The NBA Joins Fortnite to Celebrate the NBA's 75th Anniversary Season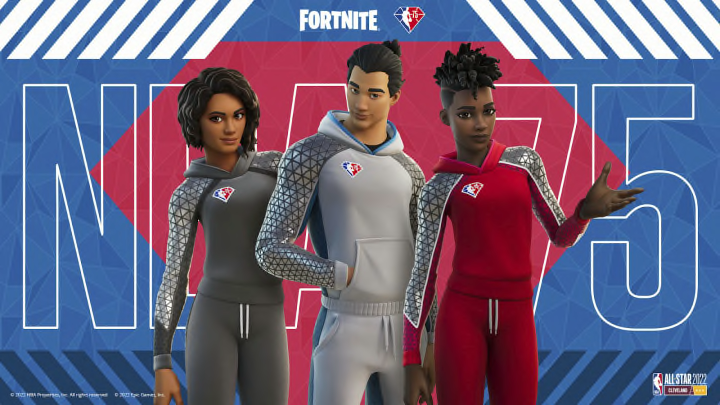 For the first time ever, players can now vote for which NBA celebration they would like to see turned into a future Emote in Fortnite: Battle Royale. / Photo COurtesy of Epic Games
In celebration of the NBA's 75th Anniversary Season and NBA All-Star 2022, for the first time ever, players can now vote for which NBA celebration they would like to see turned into a future Emote in Fortnite. This is the second time the NBA has brought an immersive experience to Fortnite players around the world, after the Fortnite x NBA cross-over in May 2021.
Made by creator team Atlas Creative, sports fans and players can vote in Creative mode for a future Emote via the NBA 75 All-Star Hub in Fortnite. Live now until 10 a.m. ET on Feb. 23, players can explore the NBA 75 All-Star Hub in Creative mode and its many amenities, including indoor and outdoor basketball courts, photo booths, and lounge areas where fans can browse iconic NBA highlights.
Additionally, there are new NBA 75 warmups available to wear in the new NBA 75 Set, as well as uniforms from any NBA team with the returning In The Paint Set. The ten Outfits of the In The Paint Set come with uniforms of all 30 NBA teams and two new uniforms to commemorate the Hub: All-Star '22 Red and All-Star '22 Gray.
Lastly, players can equip the NBA Beacon Back Bling to switch to the team they want to rep by going to the Locker. Let us know which team you plan on repping during the Fortnite and NBA 75 anniversary celebration.