The Reckoning Warzone: How to Get the Weapon Blueprint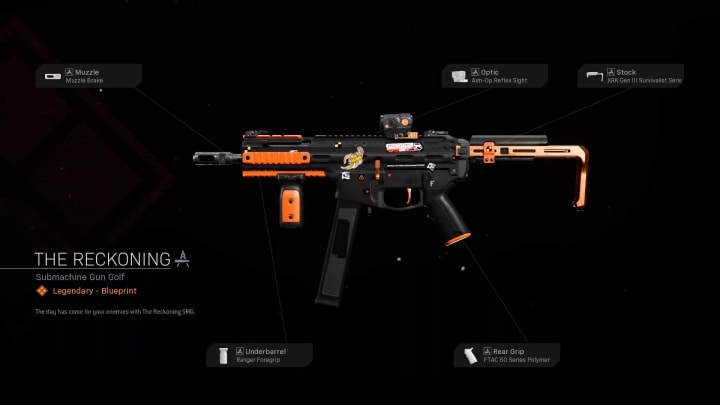 The Reckoning Warzone weapon blueprint is all about the "Prototype 367" Bundle. / Credit: Activision, Blueprint
The Reckoning Warzone weapon blueprint is all about the "Prototype 367" Bundle.
Call of Duty bundles release with them a bunch of cosmetic items in the forms of weapon variants, emblems, calling cards, stickers, finishing moves, and even operator skins. One of the more recent ones, the "Prototype 367" Bundle, features The Reckoning legendary blueprint for the Striker 45 SMG. This legendary blueprint is a black and orange, cosmetic-based variant that also changes the base weapon's attachment combinations.
The Reckoning Warzone: How to Get the Weapon Blueprint
To get The Reckoning legendary blueprint, players need to purchase the "Prototype 367" Bundle located within the Call of Duty store. This bundle costs 1400 COD Points (CP).
Once unlocked, this is The Reckoning's basic attachment rundown:
Muzzle: Muzzle Brake
Optic: Aim-Op Reflex SIght
Stock: XRK Gen III Survivalist Series
Underbarrel: Ranger Foregrip
Rear Grip: FTAC 60 Series Polymer
This matte black weapon skin with orange accents is sure to out-style your opponents in any CQB situation and ensure your a "reckoning" force on the battlefield.