The Rock Confirms MW3 Operator is His Cousin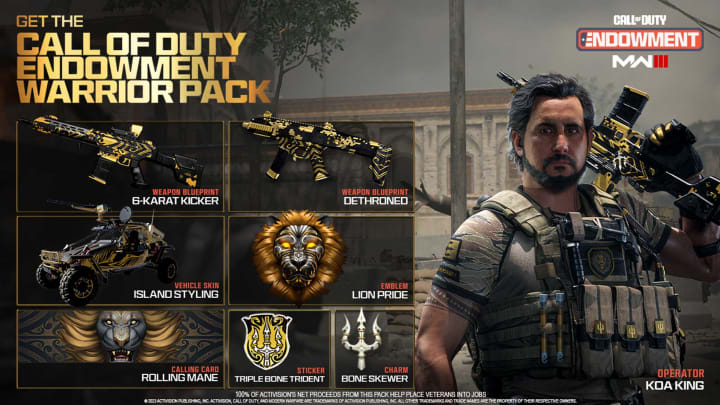 MW3's Koa King Operator is modeled after The Rock's cousin, Ben. / Activision
One of the newest Operators in Call of Duty: Modern Warfare 3 is The Rock's cousin, a decorated Navy SEAL.
After Nicki Minaj and 21 Savage joined Call of Duty: Modern Warfare 2 and Call of Duty: Warzone as Operators, all eyes were on the next major collaboration coming in Modern Warfare 3. Instead of releasing another mainstream artist, though, Activision gave the launch spotlight to Call of Duty Endowment in support of U.S. and U.K. veterans.
Koa King is the first Operator in a C.O.D.E. Bundle, and he just so happens to be the relative of Dwayne "The Rock" Johnson. Here's how his presence in Call of Duty helps support former servicemen and women.
The Rock Confirms MW3 Operator is His Cousin
The Rock confirmed Koa King, the MW3 C.O.D.E. Operator, is in fact his cousin, Ben, a 16-year Navy SEAL. Ben served as a command member of SEAL TEAM 6, has multiple Bronze Stars, and even received a Purple Heart.
"Over his 16 years of service, he deployed to Europe, Africa, Afghanistan, and Iraq," Activision wrote. "One of his specialties was reconnaissance, where he honed his instincts and experience to ensure the safety of his fellow SEALs before they arrived on-target."
The Rock explained, "KOA means WARRIOR in Samoan. This whole thing is very cool and badass."
Ben's impressive and honorable career is now forever immortalized in Modern Warfare 3. Now, players across the world can purchase his skin and Bundle to help veterans.
How to Get Koa King Operator in MW3
To get the Koa King Operator in MW3, players must purchase the Warrior Pack for $9.99. Every purchase of the Bundle goes towards helping U.S. and U.K. veterans get placed into high-quality jobs.
Along with the Operator, the Warrior Pack includes the following items:
"Dethroned" SMG Weapon Blueprint
"6-Karat Kicker" Marksman Rifle Weapon Blueprint
"Bone Skewer" Weapon Charm
"Lion Pride" Animated Emblem
"Triple Bone Trident" Weapon Sticker
"Rolling Mane" Animated Calling Card
1 Hour Double Player XP Token
1 Hour Double Weapon XP Token
The items do not unlock in Warzone until Season 1 on Dec. 6, 2023.