FIFA
Timothy Weah FIFA 21 Challenges: How to Complete the FUT What if Objective
By Max Mallow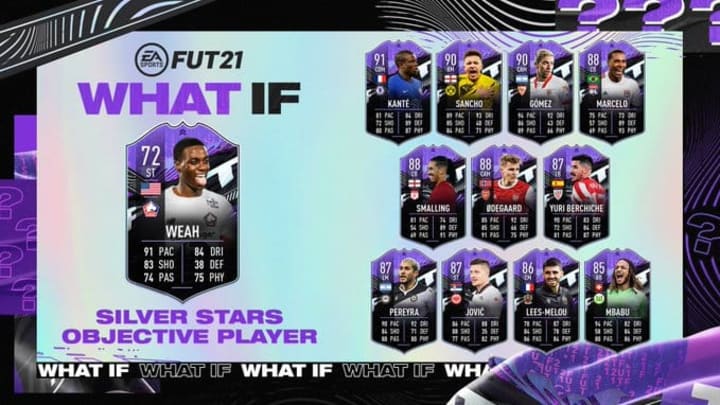 Photo by EA Sports
Timothy Weah FIFA 21 challenges went live alongside Team of the Week 23 and the FUT What if promotion.
FUT What if is a new Ultimate Team promotion in which special items can receive +2 upgrades if the player's team completes an objective in real life in their next five domestic league matches. If the player is an attacker or midfielder, that team must score six goals across the five games. If the player is a defender or goalkeeper, the team has to keep a single clean sheet. It's a fun tie-in and some of the players have already earned their upgrades.
Part of Team of the Week each Wednesday is Silver Stars. These cards are earned through the Silver Lounge FUT Friendly. EA Sports made the Silver Stars player this week also a What if card.
Timothy Weah FIFA 21 Challenges: How to Complete the FUT What if Objective
Here's how to complete the Timothy Weah What if Silver Stars card:
Win three matches in the Live FUT Friendly: Silver Lounge
Score eight goals in the Live FUT Friendly: Silver Lounge
Assist six goals in the Live FUT Friendly: Silver Lounge
The Silver Lounge playlist requires players to use a full Silver team. Weah's card becomes useful with a Finisher chemistry style. If the card receives an upgrade. The team does have AS Monaco and Paris Saint-Germain as part of its next five fixtures, but Lille should be able to hit those six goals required.
Silver Stars What if Weah expires next Wednesday at 1 p.m. ET when a new TOTW is released.