Toni Kroos FIFA 22: How to Complete the FUTTIES March Favorite SBC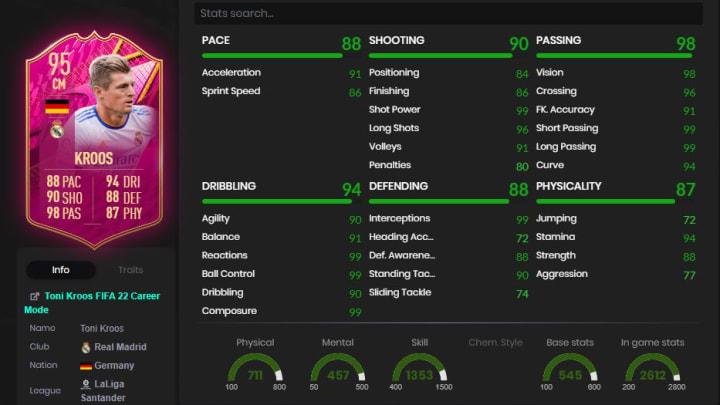 Image courtesy of FUTBIN
Toni Kroos received a FIFA 22 FUTTIES SBC card designated as a March Favorite from the Ultimate Team cycle.
FUTTIES is the annual end-of-cycle promotion each year in FIFA Ultimate Team celebrating all the past content released. Part of the promotion includes re-releasing fan-favorite players as new FUTTIES cards with upgraded statistics. Real Madrid midfielder Toni Kroos was a popular FUT Birthday card when he was originally released, but now he's got a new 95-rated item that's sure to make squads for those still playing.
Toni Kroos FIFA 22: How to Complete the FUTTIES March Favorite SBC
Here's how to complete the FUTTIES Toni Kroos SBC in FIFA 22:
Segment 1
# of Players from Real Madrid: Min. 1
Squad Rating: 83
Team Chemistry: 70
# of Players in the Squad: 11
REWARD: Electrum Players Pack
Segment 2
# of Players from Germany: Min. 1
Squad Rating: 84
Team Chemistry: 65
# of Players in the Squad: 11
REWARD: Small Rare Mixed Players Pack
Segment 3
# of Players from LaLiga Santander: Min. 1
Squad Rating: 85
Team Chemistry: 60
# of Players in the Squad: 11
REWARD: Gold Players Pack
FUTTIES Toni Kroos is a must-complete for those still playing the game. The SBC is well priced and doesn't require any special cards for either segment. Part of what made FUT Birthday Toni Kroos so popular was his high passing. This item increases it even more while also upgrading other key areas. Plus, Toni Kroos is easy to link in hybrid squads with other popular German midfielders in the game.
FUTTIES Toni Kroos expires Aug. 13 at 1 p.m. ET.