Tray Racers Review: A Laid-Back, Playful Racer for Short Bursts of Fun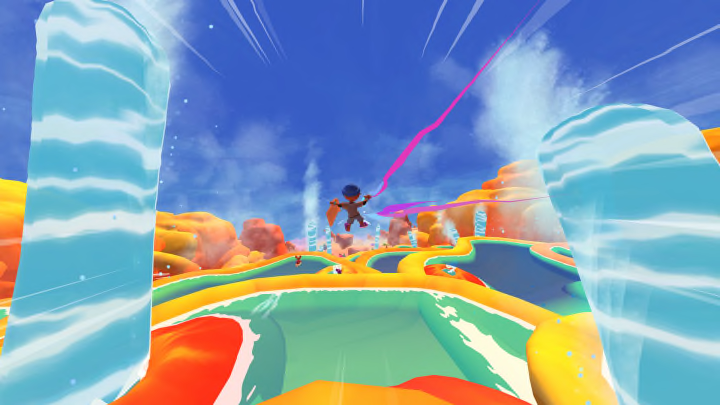 Even flow. / Bit Loom
Competitive gaming doesn't always have to be a high-stakes, all-or-nothing fiasco. It can simply be boiled back down to its basic function — a bit of fun. Tray Racers, a simple multiplayer racer, makes no claims of being intricate or multi-leveled. There's no battle pass, no premium currencies and no commitment pressures which, for a free-to-play game, is an irregular phenomenon.
Players create their character, customize their mode of transport (a tray, in case you're wondering), grab a few friends and hit the sand dunes. From top to bottom, the dunes consist of plentiful hazards: giant cacti, erupting geysers, a washing line — all procedurally generated with each race. Players get a chance to practice on the course for a few minutes, allowing for time to nail down the perfect route and get the best time. Once the time is up, all players are transported back up to the starting line for the final race. The winner is whoever has the fastest combined practice and final time.
Terrifying, actually. / Bit Loom
Tray Racers has a max player limit of 16, and it's best played with as many as possible. It's even better with those you know and like. It can work itself nicely into a scheduled game night with friends, with 20 minutes or so of surfing the sands before continuing on with the night's festivities. There's no need for any established skill, either. Just because you're good at Mario Kart doesn't mean you'll have an advantage. Mario and friends never had to contend with giant camels strolling through the middle of Dry Dry Desert.
Having no idea what you'll encounter during each race is part of what makes the game so easy to pick up. No matter who you're playing with, everyone has as much knowledge of the course as each other. Shortcuts or strategies can only be formed during the practice time, and everyone has the same tools and mechanics at their disposal.
Be a robot. Get a wig. Pet a lizard. / Bit Loom, screenshot: Alexandra Hobbs
With the race over, players head back to the interactive lobby. Here you can change your appearance, gather round the campfire or jump on each other to form human stacks. There are instruments to play, rocks to climb and even a lizard to pet. It's a small reprieve from the heat of the race, giving players a space to have some easy fun while they wait for the next round.
Matches are fast and the controls are easy to master. It's a great option for getting everything started and everyone on board for game night. It's main drawback is that it might not keep everyone's attention for long. A lack of in-game unlocks or mode varieties outside of its main two (Race Mode and Daily Race) means that Tray Racers does start to feel a little samey after an hour or so but, being free-to-play, that's easily forgiven.
Tray Racers launches on PC and Nintendo Switch, supporting crossplay between the two. It also runs incredibly smoothly on Steam Deck. It has all the same charm and vibrancy as Bit Loom's previous project, PHOGS!, though a few more pesky rocks and cacti. If you're looking for a super casual racer, a colorful party game or just a way to goof around with some friends for an hour or two, then you can't go wrong with Tray Racers.
Tray Racers, developed by Bit Loom, launches on April 13, 2023 for PC and Nintendo Switch.
DBLTAP was provided with review codes for Tray Racers by its developers, Bit Loom and PR representatives, Player Two.