Top Games
Tribes of Midgard Roadmap Explained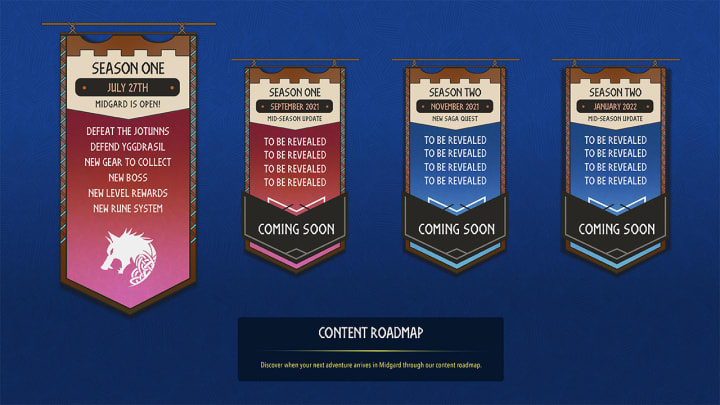 Tribes of Midgard's content roadmap includes scant few details. / Photo courtesy of Norsfell
Tribes of Midgard's roadmap functions the same way roadmaps do for other games, giving players a glimpse into developer Norsfell's plans for the future of the game. Norsfell published their roadmap, rough as it may be, back in early July, before the game had even seen full release. Here's what the developer has told us about its plans for Tribes of Midgard.
Tribes of Midgard Roadmap Explained
Tribes of Midgard begins in Season 1, which Norsfell has titled "The Wolf Saga." This first season includes three events, all of which provide event fragments as rewards.
The Roosters of Ragnarök Event sends players to find Gullinkambi, Fjalar, and the Unnamed Rooster, whose crowing signals the coming of Ragnarök. The Prisoner Event is a rescue mission in which players must save captives taken by the Dark Elves. Finally, the World Tree Stags Event will allow players to occasionally commune with four magical stags living in the branches of Yggdrasil.
The first season — or Saga, to use Norsfell's language — also includes a climactic battle with the Saga Boss that players can reach only after reconstructing a bridge between Midgard and an island called "A Land Best Forgotten."
Halfway through Season 1, in September, Norsfell will add a mid-season update. What exactly will arrive in that update has yet to be revealed. Beyond that, Norsfell has said Season 2 will bring a new Saga when it starts in November, and its mid-season update will arrive in January.