Top Games
Tribes of Midgard Saga Mode: Everything You Need to Know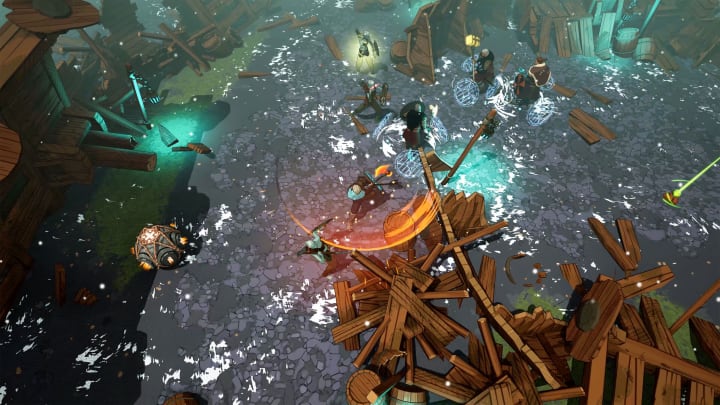 Tribes of Midgard, Norsfell's brand-new 1-10 player co-op action survival RPG game, launched on July 27, 2021. / Photo courtesy of Gearbox Publishing
The Tribes of Midgard Saga Mode is the first setting players will be introduced to when they get their Viking feet wet in the world of Norse for the first time.
Just launched on July 27 for PlayStation 5, PS4 and PC, Tribes of Midgard invites players running solo, or with up to nine others, to take on the role of Einherjar—glorious Viking heroes in Valhalla—to fight giants and beasts in classic top-town combat. Here is a breakdown of one of the co-op action survival RPG's two modes available on day one—Saga Mode.
Tribes of Midgard Saga Mode: Everything You Need to Know
Saga Mode is a session-based game mode where players fight to prevent the end of the world.
Along with crafting, building, and progression systems, players will be able to unlock and choose from eight unique Viking classes as they set out to save the world from Ragnarök, adjusting for the various boss battles and unique weather effects that occur within the game's vast, procedurally-generated world.
Players must gather the materials needed to power up their Einherjar in an attempt to defend their village's Seed of Yggdrasil from Giant and Helthing attacks before the Fimbulwinter—an eternal winter where the world freezes and the village is attacked non-stop.

This mode focuses on Saga Quests, the ultimate test of a tribe's might, that grant additional rewards for those who can conquer the trials.
While the difficulty of monsters and giants is scaled for those who want to play the game solo, co-op is surely the way to go in Saga Mode as tribes can divide and conquer the world of Norse at the same time.
Aside from simply covering each others' backs in nightly village defense holds, gathering resources, leveling up village NPCs, completing quests, constructing defenses and more, there is simply too much for one Viking to accomplish on their own before the arrival of the Fimbulwinter.
Once a player's character has reached Level 3 after few runs on Saga Mode, Tribes of Midgard's more relaxed Survival Mode is unlocked.