TrueGameData Discovers Welgun SMG Has Higher TTK than Popular MP40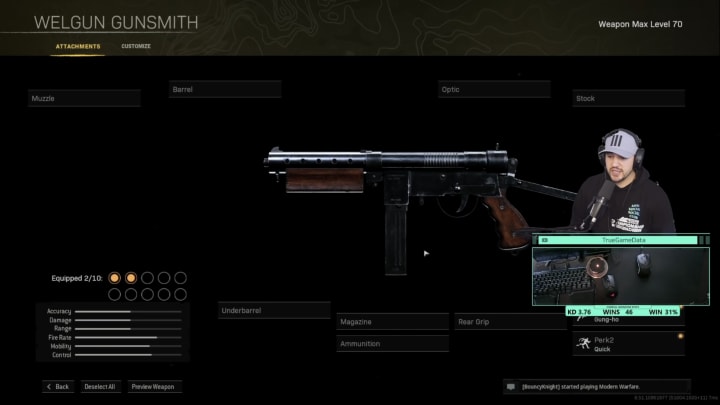 TrueGameData, a Call of Duty: Warzone expert and content creator, has revealed a SMG build with a higher TTK than the game-popular MP40. / Activision, TrueGameData (YouTube)
TrueGameData, a Call of Duty: Warzone expert and content creator, has revealed a SMG build with a higher TTK than the game-popular MP40.
In a video uploaded to his official YouTube channel on Friday, Jan. 28, TrueGameData (TGD), discussed a weapon that could become the cornerstone of a brand new meta thanks to this build. According to him, the Welgun—submachine gun introduced halfway through Warzone Pacific Season One—has the potential to out due the community-favorite MP40. It just needs to be appropriately equipped to do so.
Top TTK Welgun Loadout Revealed
In his video, TrueGameData used the following ten attachments:
Ammunition: Incendiary
Barrel: 300mm Wilkie Custom
Magazine: 9mm 64 Rnd Mags
Muzzle: Recoil Booster
Optic: Slate Reflector
Perk 1: Gung-ho
Perk 2: Quick
Rear Grip: Taped Grip
Stock: Gawain S-Custom
Underbarrel: Carver Foregrip
Those who haven't unlocked this weapon can get it by scoring 10 ADS kills—which TGD recommends doing in a Free-For-All match in Vanguard. Players who don't have access to the game, however, could manage to get this done by dropping into a Plunder match at the airfield.
According to the data shown by TGD about halfway through the video, using the loadout listed above, the Welgun kills at about a half a second faster rate than the MP40. This may not seem like a lot, of course, but as any seasoned Warzone player knows, every moment counts in a fast-paced gun fight.
Time will tell if the Welgun truly becomes the key to shaping the new meta once Warzone Pacific Season Two drops in early February.