TrueGameData Unveils Submachine Gun with 'Ridiculous Damage'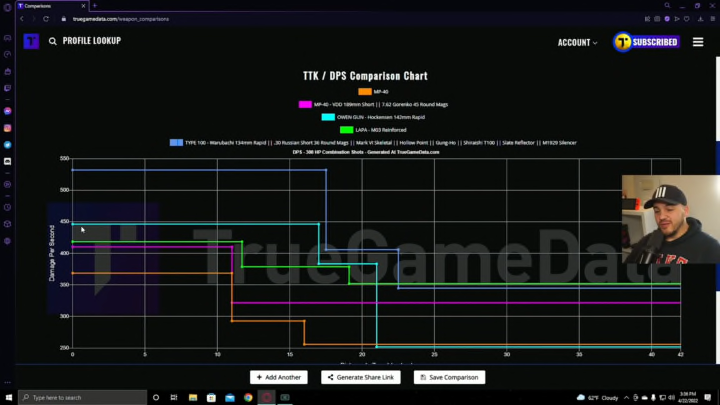 TrueGameData (TGD), a popular content creator for Call of Duty (CoD): Warzone, has unveiled a new submachine gun (SMG) build with melting potential. / TrueGameData
TrueGameData (TGD), a popular content creator for Call of Duty (CoD): Warzone, has unveiled a new submachine gun (SMG) build with melting potential.
TGD spoke about the build in a new video posted to his YouTube channel, on Friday, April 22. In it, he spotlights a few SMGs in-game, including the popular MP40 and Owen. However, if the data on TGD's Warzone tool is to be believed, another "underrated" weapon may be in position for that top spot.
Here's what TGD has to say about the Type 100.
"I've made videos about the Type 100 before, it's never been changed," he said, "it still has ridiculous damage per second — just unmatched damage per second...The Type 100 is [almost 100 DPS higher] than that Owen gun. It's just insane — and I know the recoil goes left and right...and it feels hard to control but, in my experience, inside 15 meters, it still fries people."
The data shown appears to support this, as well, with the Type 100 up around 80-90 DPS over the Owen when comparing combination shots. It even stays up longer than the Owen at ~17 meters, though only by half a meter or so.
TGD explains that the primary reason the gun is so unpopular is because its recoil makes it difficult to hit targets beyond 20 meters. Staying away from your opponents is crucial in games like Warzone, so, for all its damage, it may be difficult to make any of it count. However, this makes it perfect for close combat environments like Rebirth Island.
TGD's Type 100 loadout uses the following attachments:
Warubachi 134mm Rapid
.30 Russian Short 36 Rnd Mags
MK VI Skeletal
Hollow Point
Gung-Ho
Shirashi T100
Slate Reflector
M1929 Silencer
"It's one of those guns that's hard to use. It's going to be hard to get multiple kills with it, but I've always been someone who loves having the best TTK," he said, "[The Type 100 is] difficult to use, but dang, it just melts people."
More information can be found in TGD's video.