Twitch Rivals Apex Legends NA Showdown: Final Results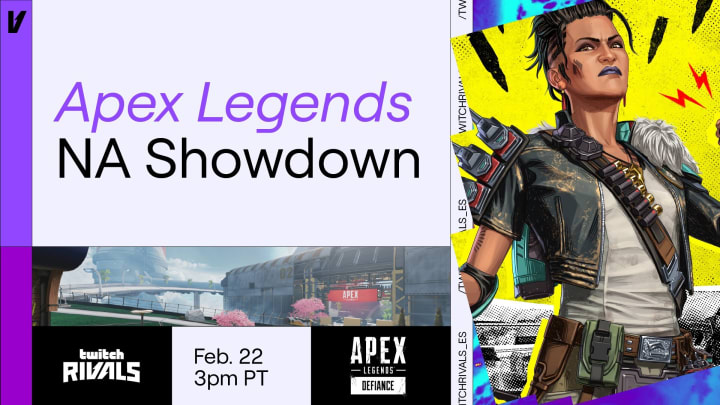 The results are in. / Image courtesy of Twitch Rivals, Respawn Entertainment
The Twitch Rivals Apex Legends NA Showdown certainly did not disappoint, but for those who did miss it, here is a breakdown of the final results.
In celebration of Apex Legends' three-year anniversary, the folks over at Twitch Rivals and Respawn Entertainment teamed up to put a $50K USD prize pool up for grabs between some of the community's brightest stars.
Twitch Rivals Apex Legends NA Showdown: Final Results
Ultimately, out of the 60 competitors and 20 trios that took part in the event, Team Tfue — Tfue, skittlecakes and sloth — ended up taking the top spot:
Team Tfue: 71 Points ($12,833)
Team Snip3down: 48 Points ($8,333)
Team HisandHersLive: 43 Points ($6,000)
Team GuhRL: 43 Points ($4,500)
Team sweetdreams: 37 Points ($3,833)
Team noobkingsmith: 25 Points ($1,583)
Team TSM_ImperialHal: 23 Points ($1,583)
Team Hambino24: 14 Points ($1,433)
Team NICKMERCS: 36 Points ($1,350)
Team vickypalmi: 32 Points ($1,350)
As shown by the results above, this event took on a pretty unique format, taking advantage of the Season 12: Defiance Control LTM being in the current rotation.
The Twitch Rivals Apex Legends NA Showdown went down live on Tuesday, Feb. 22, and dropped the star-studded teams into a five-match series ALGS-style before an extra game of Control.

After the two private match games on World's Edge, two on Storm Point, and one on Olympus, the Control match was played on public matchmaking but didn't affect the positions or points of the leaderboard as teams who won their LTM game simply enjoyed a bigger prize payout at the end.