Top Games
Twitch Streamer MikeyPerk's 17-Year-Old Daughter is Still Missing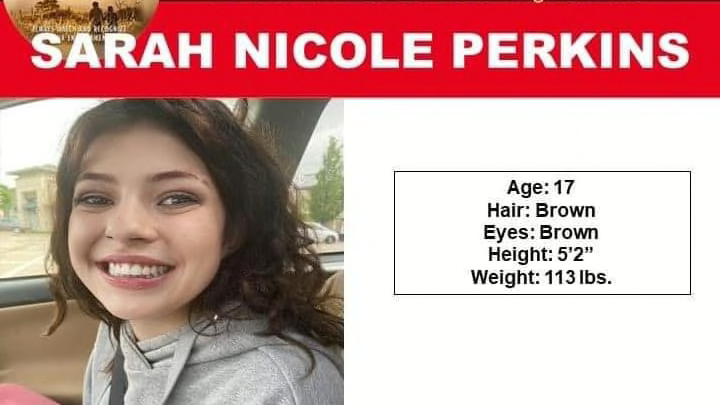 Sarah, the 17-year-old daughter of Twitch Streamer Michael "MikeyPerk" Perkins, disappeared late Friday, June 25. / The Aware Foundation
Sarah, the 17-year-old daughter of Twitch Streamer Michael "MikeyPerks" Perkins, disappeared late Friday, June 25.
The teenager was last seen at 9 p.m. and last spoken to at 11:30 p.m. in Carlisle, Ohio that day, according to a report published by the local news outlet WLWT. MikeyPerks alerted fans to her disappearance via Twitter through a tweet published at 9:30 a.m. on Saturday, June 26. Sarah "snuck out" to a hotel with individuals aged 20-21 and has yet to return home at the time of writing.
"My nerves are shot and I've slept and hour. Going to the police now." He wrote.
Sarah Nicole Perkins is 17 years old, about 5'2" tall, and weighs 110 lbs. She has brown hair and brown eyes, as well as an infinity symbol tattoo on her right arm with the words "Love You More."
Twitch Streamer Pleads for Help in Finding Missing Daughter
MikeyPerk updated followers with a quote retweet shortly after the initial message went live. Sarah's friends were able to give him further information regarding where she may have gone and who she would be with. Her phone has been turned off.
"The police have her info and are currently looking for her," he wrote, "Thank you everyone for all the prayers. I'm broken. I dunno what to do."
MikeyPerk has reached out on nearly every platform for help or information concerning Sarah's whereabouts—including his Twitch channel, TikTok, and YouTube. A Facebook group has been created to help find Sarah as well as a Reddit post.
In his latest video, MikeyPerk describes the latest on the situation, stating the investigative team has received several leads. He and his family have been searching the town and surrounding areas to no avail. Fans using the #FindSarah hashtag is helpful, he said.
Authorities in Carlisle believe she could be in the Springboro or Franklin areas. They encourage anyone with any information regarding Sarah's location to contact officers at (937) 425-2525. The station can also be contacted through their website.