Ultimate TOTSSF FIFA 20 Team Prediction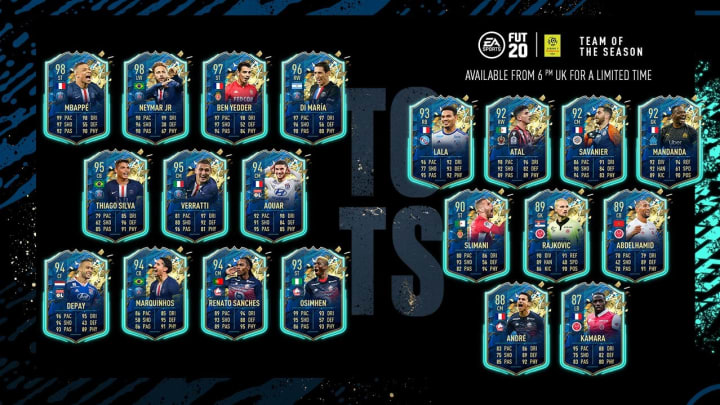 The Ultimate Team of the Season so Far is expected to come out tomorrow in FIFA 20 and players are making their own ultimate XI team predictions. / Photo courtesy of EA Sports
Ultimate TOTSSF FIFA 20 team is expected to come out Friday in Ultimate Team and players are making their own ultimate XI predictions.
With all other big leagues completed, here are predictions for the FIFA 20 TOTSSF Ultimate Team.
Ultimate TOTS FIFA 20 Team Prediction
Ultimate TOTS is coming to FIFA 20 this Friday, June 5. Ligue 1 was the last major league released in packs. With it being the last TOTSSF, it will be another fitting end before more updates are released about FIFA 21.
Here are the predictions for the 20 players in the Ultimate TOSSF team:
1.

GK: Alisson Becker (97) - Liverpool
2.

GK: Jan Oblak (96) - Atletico Madrid
3.

LB: Theo Hernandez (93)- AC Milan
4.

CB: Sergio Ramos (96) - Real Madrid
5.

CB: Raphael Varane (97) - Real Madrid
6.

CB: Virgil Van Djik (99) - Liverpool
7.

CDM: Joshua Kimmich (96) - Bayern Munich
8.

CM: Sergej Milinkovic-Savic (94) - Lazio
9.

CM: Frenkie de Jong (94) - Barcelona
10.

CM: Kevin De Bruyne (99) - Manchester City
11.

CAM: Marco Reus (95) - Borussia Dortmund
12.

RW: Lionel Messi (99) - Barcelona
13.

RF: Jordan Sancho (96) - Borussia Dortmund
14.

LW: Neymar da Silva Santos Júnior (98) - Paris Saint-Germain
15.

LW: Sadio Mane (98) - Liverpool
16.

ST: Wissam Ben Yedder (97) - AS Monaco
17.

ST: Kylian Mbappe (98) - Paris Saint-Germain
18.

ST: Cristiano Ronaldo (99) - Juventus
19.

ST: Lautaro Martinez (96) - Inter Milan
20.

ST: Robert Lewandoski (99) - Bayern Munich

These 20 players have performed exceptionally in their respective league so far. They are also some of the highest rated cards in the game. EA Sports should include fan favorites to keep the final week of the promotion exciting.

Messi, Ronaldo and Van Dijk are locks but the likes of Neymar Jr and Ramos might make their reappearance in the Ultimate TOTS. EA Sports might take out some of the predicted players to balance the team.

This squad will surely make the market rise for the high end cards excluded and create more troubles for the players who don't pay-to-play.