Call of Duty
Underground Transit System Revealed in Warzone Season 3 Classified Arms Reloaded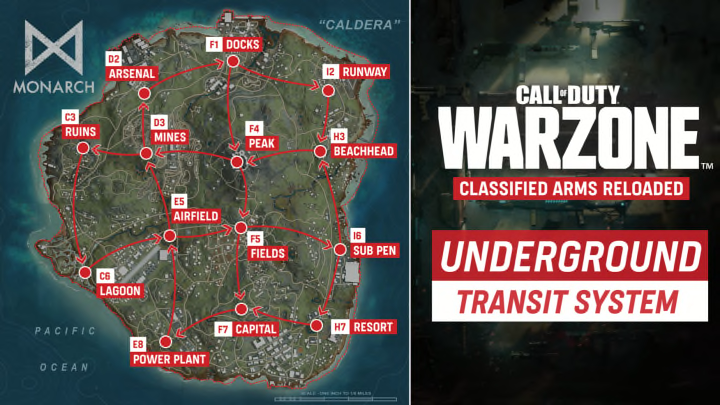 Check out this map for the location of each access point for the new Underground Transit System in Warzone / Photo COurtesy of Activision
Classified Arms Reloaded, a series of updates that will continue the third season of Call of Duty: Vanguard and Warzone, is set to bring new features, modes, tokens, and bundles. This mid-season update will be live after a Warzone update at 12 p.m. ET on Wednesday, May 25.
One of the newest changes coming to Warzone as part of the update is a new underground Transit System. Developed by Toys for Bob, this new Underground Transit System features 14 access points, indicated on the Tac Map and mini-map by a silver "vault door" symbol.
According to Activision, players who have kept a close eye around Caldera during Season Two already know where seven of these access points are, as they are the "hidden" Nebula 5 bunkers. The door to the mine-cart hub room can be found right after dropping into each bunker. The other seven access points are small hatches into the mine-cart hub area.
Underground Transit System Revealed in Warzone Season 3 Classified Arms Reloaded
To travel via minecart to another hub area, simply interact with the circular hatch and walk toward the cart. When doing so, the destination name will appear on your screen — you can also check the map to see how it interacts.
After a few seconds of travel time, you'll instantly appear at your destination. Just be mindful of the lights around each hatch, any color besides a green one can indicate potential danger waiting in that area.