Unlocking Options for the Fennec & CR-56 AMAX in Call of Duty: Modern Warfare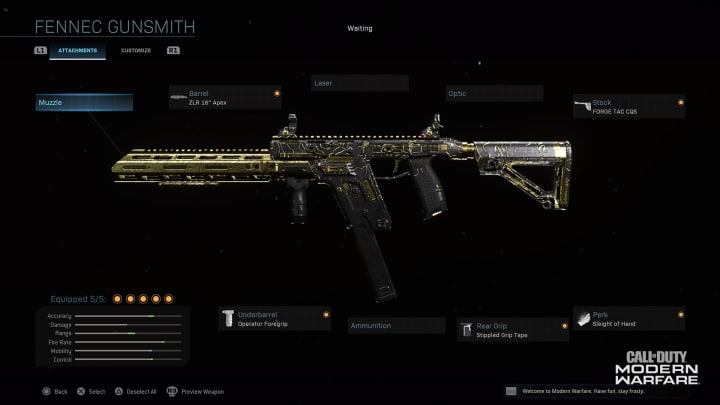 The Fennec SMG and CR-56 AMAX are the latest weapons to appear in Call of Duty: Modern Warfare. They're based on fan-favorites the Vector & Galil. / Photo courtesy of Infinity Ward
A new season in Call of Duty: Modern Warfare brings with it new weapons, and this time we are blessed with a new SMG and Assault Rifle that are long-time fan favorites. Getting your hands on the Fennec SMG (based on the Vector) and AMAX Assault Rifle (based on the Galil) are relatively simple, but you do have a few options which delegate how fast you will get your hands on these new weapons.
Read on to see the fastest way to get these new weapons, how to unlock them, and a little bit of history and basic performance stats along the way.
How to Unlock the Fennec Submachine Gun
Upcoming camo profiles for the Fennec SMG /
A long-time fan favorite, the Kriss Vector SMG (rebranded to the Fennec for Modern Warfare) is a versatile weapon made for mobility and handling that absolutely shreds with its insane fire rate. We're talking over 1080 RPM - complete with a TTK of just over 160ms. Not only is this fire rate extremely fast, but also has surprisingly controllable recoil for a weapon with such a high fire rate.
The Fennec is unlocked at level 15 of the Season 4 standard battle pass, and is free for all players - as long as you grind to that level by playing Multiplayer and Warzone matches. 
You can either grind out to level 15, unlock tiers at a cost of 100 COD Points per level, or instantly unlock it by purchasing the premium battle pass, which conveniently unlocks the first 24 tiers of the pass.
How to Unlock the CR-56 AMAX Assault Rifle
Photo courtesy of Infinity Ward
Based off of the Galil Assault Rifle, the AMAX is most comparable to the fire rate, handling, and recoil patterns of the AK-47 and SCAR. Although sporting a bit better stats than the aforementioned weapons, this bad boy won't be taking down the Grau .556 anytime soon; the current king of all weapons in Warzone.
The AMAX is unlocked at level 31 of the battle pass, so even if you purchase the premium pass, you'll still need to grind a bit more to get it unlocked. Fortunately, regardless of what route you take to unlock these weapons, it won't take too long to do so.