Valorant Champions Tour Stage 3: Masters Berlin Primer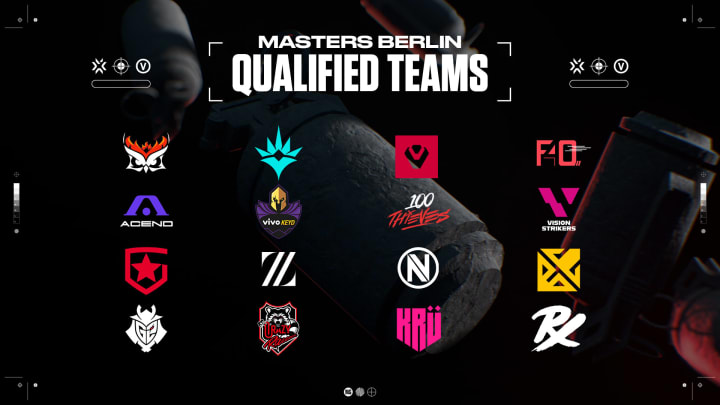 From Sept. 10 to Sept. 19, 15 qualified teams will compete for the Masters Berlin trophy and a direct invitation to Valorant Champions. / Photo courtesy of Riot Games
The third and final Masters event of the 2021 Valorant Champions Tour (VCT) is set to unfold at the Verti Music Hall in Berlin, where 15 of the 16 teams who qualified via Stage 3 Challengers Playoffs will compete for VCT Points, the trophy and a direct invitation to the end-of-year Champions tournament.
Over the course of 10 days, Masters Berlin will consist of group play, followed by an eight-team single elimination bracket.
Group Stage
Groups A, B and C will each host four teams in a double-elimination format, while Group D's three teams will follow a double round-robin schedule.
The Top 2 teams from each group will advance to the knockout stage.
All matches will be best-of-three.
Knockout Stage
With a random draw determining the seedings after groups, eight teams will compete in a single-elimination bracket. The four teams who advanced out of their group in first place will be randomly assigned a second place team from a different group.
All matches will be best-of-three except for the grand final on Sept. 19, which will be a best-of-five.
North America
Sentinels (NA No. 1)
Shahzeb "ShahZaM" Khan (IGL): Sova, Jett
Hunter "SicK" Mims: Phoenix, Sage, Raze
Jared "zombs" Gitlin: Astra, Viper
Michael "dapr" Gulino: Killjoy, Cypher, Viper
Tyson "TenZ" Ngo: Jett, Reyna
The winners of seven VCT titles, including Masters Reykjavík, there's no team that the Valorant world has seen and heard more of in the past year than Sentinels. Since adding likely the best Duelist in the world in TenZ to an already stacked lineup back in March, the team has simply been head and shoulders above the rest. Against the likes of FaZe, C9 Blue, Version1, Fnatic, XSET and 100 Thieves, this SEN roster has closed out six different grand finals in 3-1 or 3-0 fashion. Each player on Sentinels is S Tier at what they do, as displayed by ShahZaM, who not only plays as Jett at times while IGL'ing, but also is one of, if not the sole reason this squad is able to play without a coach. SEN will matchup first with the other favorite to make it out of Group D in G2 Esports, but nonetheless, they are overwhelmingly the favorites to win Masters Berlin despite having already punched their tickets to Valorant Champions.
100 Thieves (NA No. 2)
Spencer "Hiko" Martin: Sova, Viper, Breach
Nicolas "nitr0" Cannella: Omen, Astra, Viper
Joshua "steel" Nissan (IGL): KAY/O, Cypher, Killjoy
Peter "Asuna" Mazuryk: Jett, Reyna, Raze
Ethan "Ethan" Arnold: Skye, Jett, Omen
Aaron "b0i" Thao (Sub)
Hector "FrosT" Rosario (Coach)
One of the teams whose international and LAN debut will be particularly highly anticipated, 100 Thieves have been one of the most entertaining squads to watch in NA, as hinted at by steel being the lone consistent KAY/O player at the event. With a mix of four former CS:GO veterans and a masterclass Duelist in the 18-year-old Asuna, expectations for 100T are high going into Berlin. As previously stated by Hiko, the team was formed with LAN play in mind. Unfortunately, 100 Thieves notoriously drew the short end of the stick out of the three NA teams when it came to how the groups shook out, matching up with the best teams from Europe (Gambit Esports), Japan (Crazy Raccoon) and, arguably, Brazil (Havan Liberty), so the heat will be on them from the start.
Team Envy (NA No. 3)
Pujan "FNS" Mehta (IGL): Killjoy, Viper
Victor "Victor" Wong: Skye, Raze
Austin "crashies" Roberts: Sova, Cypher
Jaccob "yay" Whiteaker: Jett, Reyna, Sage
Jimmy "Marved" Nguyen (Loan): Astra, Viper
Michael "Mikes" Hockom (Coach)
Along with 100T, Team Envy has consistently been in the upper echelon of NA teams, second only to Sentinels. The separation with Envy from the rest of the Tier 1 pack was especially made clear after the strong pickups of Marved from FaZe and yay from Andbox, who have come in and seemed to raise both the floor and ceiling of the team right away. Despite coming in as NA's third seed, the patient, methodical Envy squad was given the easiest group of the three, at least on paper, so it would be a massive upset if they were unable to make it to the Knockout Stage.
EMEA
Gambit Esports (EMEA No. 1)
Timofey "Chronicle" Khromov: Sova, Reyna, Viper
Nikita "d3ffo" Sudakov: Jett, Skye, Raze
Bogdan "Sheydos" Naumov: Skye, Sage, Raze
Ayaz "nAts" Akhmetshin: Cypher, Viper
Igor "Redgar" Vlasov (Captain/IGL): Astra, Omen, Sova
Andrey "Engh" Sholokhov (Coach)
One of the rosters with the most continuity heading into Berlin, Gambit Esports boasts four players who've been playing together for an entire year since September 2020. Their lone move came in January, as Redgar took over as the team's new Captain and IGL. GMB like to a play a wide variety of comps, as shown by two different players being able to run Sova, Skye and Raze, as well as three different players being capable of locking in a Duelist. Being from Russia, Gambit has routinely dominated the top Commonwealth of Independent States (CIS) teams. After missing out on Iceland by falling to Fnatic in the EMEA Stage 2 Challengers Semifinals, Gambit just about cleaned house in the EMEA Stage 3 Challengers Playoffs over the likes of Team Liquid, G2 Esports, Acend and SuperMassive Blaze to enter Masters Berlin as a No. 1 seed. Keep an eye on star Sentinel player nAts, who was the Week 2 MVP en route to Gambit qualifying for Stage 3 Masters, and has said that he wants to face Sentinels and prove that EMEA has teams with both outstanding team and individual play. A matchup with 100 Thieves in Group C would be must-watch Valorant.
SuperMassive Blaze (EMEA No. 2)
Baran "Izzy" Yılmaz: Raze, Jett
Eren "Brave" Kasırga: Astra, Omen
Mehmet "Turko" Özen: Sage
Batuhan "russ" Malgaç: Skye, Sova
Melih "pAura" Karaduran (IGL): Killjoy, Cypher
Mert "9999" Turna (Head Coach)
Although Gambit Esports heads into Berlin as the No. 1-seeded EMEA team, the title of best team in EMEA is still firmly still up for debate, especially thanks to the likes of SuperMassive Blaze. Along with GMB, the Turkish squad demolished their European counterparts in the EMEA Stage 3 Challengers Playoffs, taking down FunPlus Phoenix, G2 Esports and Acend before suffering their only loss of the tournament 1-3 to Gambit in the grand finals. With all of their players just coming together in May 2021, SuperMassive Blaze have fittingly been on scalding hot tear in Stage 3, taking over the EMEA scene quick, fast and in a hurry in dramatic fashion. The play of Turko will be one to watch under a microscope in Berlin, who often carries games for SMB while exclusively playing Battle Sage.
Acend (EMEA No. 3)
Santeri "BONECOLD" Sassi (IGL): Omen, Viper, Brimstone
Mehmet "cNed" Yağız İpek: Jett, Sage, Reyna
Vladyslav "Kiles" Shvets: Cypher, Viper, Sova
Patryk "starxo" Kopczyński: Skye, Sage, Raze
Aleksander "zeek" Zygmunt: Reyna, Raze, Phoenix
Laurynas "Nbs" Kisielius (Coach)
Out goes Fnatic and Team Liquid, in goes Acend and G2 Esports for EU heading into Berlin. In terms of international exposure, Acend had unfortunate timing as they took home the EU Stage 1 Masters title, but had little to show for it after getting swept in the first round of the EU Stage 2 Challengers 2 qualifier for Iceland. Since Masters Reykjavík, however, ACE had been on a tear on Europe, and was heavily considered the team to beat before the EMEA Stage 3 Challengers Playoffs. After starting off strong by defeating Natus Vincere 2-0 and overcoming Gambit with a convincing 2-1, Acend suddenly dropped two series in a row to the two teams that finished above them in SMB and GMB. Along with one of the best duelist-support flex players in the game in cNed, it's truly unfortunate that one of ACE, GMB and Vision Strikers will not be making it out of groups.
G2 Esports (EMEA No. 4)
Óscar "mixwell" Cañellas Colocho (Captain): Skye, Viper, Killjoy
Žygimantas "nykkye" Chmieliauskas: Raze, Reyna, Sage
Auni "AvovA" Chahade: Astra, Sage, Omen
Jose Luis "koldamenta" Aranguren Herrero (IGL): Sova, Cypher, Skye
Cista "keloqz" Wassim: Jett, Sage
Neil "neilzinho" Finlay (Coach)
The second EU team going to Berlin will be G2 Esports. In the EMEA Stage 3 Challengers Playoffs, G2 started out as a Top 4 seed and pretty much did what they needed to get done. After 2-0'ing Oxygen Esports, G2 ran into a red hot SMB buzzsaw, losing 4-13 and 5-13. Despite the defeat, and soon going down 0-1 with a Berlin spot on the line, G2 flipped the script on Vodafone Giants with 13-3 and 13-4 efforts to punch their tickets to Stage 3 Masters. After the unfortunate turn of events that saw Bren Esports unable to attend Berlin, G2, Spanish ace mixwell and Jett/Sage dynamo keloqz will be matching up with Sentinels twice in Group D, which should make for double the fun with both squads heavily favored to make it to the Knockout stage.
Korea
Vision Strikers (KR No. 1)
Kim "stax" Gu-taek (Captain): Breach, Skye, Sage
Goo "Rb" Sang-Min: Sova, Raze, Sage
Lee "k1Ng" Seung-won: Killjoy, Cypher
Yu "BuZz" Byung-chul: Jett
Kim "MaKo" Myeong-kwan: Astra, Viper
Kim "Lakia" Jong-min: Skye
Pyeon "termi" Seon-ho (Head Coach)
Back in May, the story of Vision Strikers not making it to Masters Reykjavík had been heard throughout the Valorant world. Quite literally from the team's inception in June 2020, all VS did was win. With their pre-set plays and "Korean Jett" highlights, Vision Strikers were unmatched in Asia to the tune of a 102-match winning streak that ended in the group stage of Korea Stage 2 Challengers to F4Q. However, in hindsight, that result was merely a scratch compared to the gut punch VS took later that same event, suddenly falling 0-2 in the semifinals to NUTURN Gaming. While NU did a great job representing Korea at Iceland, finishing third, it has since been made clear just who remains the kings of Korea. With veteran IGL Kim "glow" Min-soo retiring from his playing career to shift to a coaching role, BuZz and MaKo joining, and Lakia returning from NUTURN, VS went right back to their gold standard ways in Stage 3. From Open Qualifiers to Challengers Playoffs, Vision Strikers left zero doubt en route to punching their tickets to Berlin, refusing to drop a single map across seven straight best-of-threes. With their redemption tour in full swing, next up for Korea's best is the "group of death."
F4Q (KR No. 2)
Yoo "FiveK" Sung-min (Captain): Reyna, Jett, Skye
Chae "Bunny" Joon-hyuk: Raze, Jett
Kim "Efina" Nak-yeon: Killjoy, Viper
Kim "zunba" Joon-hyuk: Astra
Jeong "Esperanza" Jin-cheol: Sova, Sage
Yoo "Locomotive" Jung-sun (Head Coach)
F4Q has gone quite far for being known as a stream team that remains competing for the time being without professional player salaries. After initially playing in the VCT for content and clips, F4Q had a Top 2-best Stage 3 run, second only to Vision Strikers, the team whose 102-match winning streak they notoriously ended. F4Q's existing pro play experience is not to be taken for granted. Bunny and zunba once played in the Overwatch League. Efina was once part of VS. Esperanza was part of the T1 Korea Valorant squad before things fell through. Despite this, F4Q had been known as a "one-trick team," relying heavily on Bunny's Raze and FiveK's Reyna. However, F4Q defied all expectations once again at the Korea Stage 3 Challengers Playoffs, with FiveK pulling out the Jett at times, and zunba leading the tournament in total kills while exclusively playing Astra. Heading into Berlin matched up in an unorthodox schedule with Sentinels and G2, however, F4Q will have to pull off some more magic to make it out of groups.
Brazil
Vivo Keyd (BR No. 1)
Olavo "heat" Marcelo: Jett
Jonathan "JhoW" Glória: Killjoy, Sage, Viper
Gabriel "v1xen" Martins: Viper, Astra, Brimstone
Murillo "murizzz" Tuchtenhagen: Reyna, Skye, Raze
Lucas "ntk" Martins: Sova, Sage
Pedro "Koy" Pulig (Coach)
One of, if not the toughest No. 1 seed to project heading to Berlin, Vivo Keyd's Brazil Stage 3 championship winning roster didn't even exist before last June. A team made up of five players from five different organizations just in time for Stage 3, VK went on a remarkable rampage in their most recent Challengers Playoffs appearance. After getting sent to the loser's bracket after a quick 0-2 loss to the No. 2 BR seed from Iceland in yng Sharks, VK won out to end the runs of a heap of regional contenders, including Gamelanders Blue, the aforementioned Sharks, Stage 1 and Stage 2 champions Team Viking, and FURIA Esports. Of course, it also doesn't hurt to sweep your region's other Berlin representative the way Vivo Keyd did to Havan Liberty in the grand finals. VK has already vastly surpassed their region's expectations. Now, they'll look to do the same at Berlin, starting with Team Envy.
Havan Liberty (BR No. 2)
Rodrigo "myssen" Myssen: Breach, Viper, Cypher
Gabriel "shion" Vilela: Skye, Breach
Marcelo "pleets" Leite (IGL): Astra, Sage
Felipe "liazzi" Galiazzi: Raze, Jett
Gustavo "krain" Melara: Sova, Breach, Sage
Ricardo "rik" Furquim (Head Coach)
Whereas Vivo Keyd made its big time splash in the span of couple of months, Havan Liberty's myssen, shion and pleets had been one of Brazil's middling Tier 1 cores prior to Stage 3. Failing to qualify for Brazil's Stage 1 playoffs, and finishing fourth in the qualifier for Iceland, HL had yet to come close to any of their goals even with the addition of liazzi. Finally, however, krain's arrival for Havan Liberty appeared to be all the team needed to prep for Stage 3. As shown by the abundance of HL players comfortable with playing Breach in a series, Havan Liberty dominated the Brazil Stage 3 Challengers Playoffs using comps that all showcased the bionic Swede, as well as fellow Initiator Skye at times. Despite falling 0-3 to VK in the regional final, like their Brazilian counterparts, Haven Liberty will also look to upset an NA favorite in 100 Thieves out of the gates.
LATAM
KRÜ Esports (LATAM No. 1)
Nicolas "Klaus" Ferrari: Killjoy, Sova, Skye
Roberto "Mazino" Rivas: Viper, Sage, Killjoy
Juan Pablo "NagZ" Lopez: Jett, Sage
Joaquin "delz1k" Espinoza: Astra, Brimstone, Cypher
Angelo "keznit" Mori: Raze, Skye, Reyna
Benjamin "bnj" Rabinovich (Sub)
Rodrigo "Onur" Dalmagro (Coach)
Martin "BeTony" (Coach)
The back-to-back champions of Latin America, founded by global soccer star Sergio "Kun" Agüero in Argentina, KRÜ Esports return to international competition fielding the same roster, outside of subbing keznit in for bnj. Aside from taking down the yng Sharks of Brazil, KRÜ's Masters Reykjavík run was held short after falling 0-2 to both Fnatic and Team Liquid. After originally signing on as a content creator and sixth player in May, keznit joined KRÜ's main roster for Stage 3, revitalizing the squad to clinch three first place finishes in a row. Placing in Group B, and assuming Team Envy takes care of business, the second spot to the Knockout stage really seems wide open with Brazil's No. 1 (Vivo Keyd) and Japan's No. 1 (Zeta Division) also jostling for the position.
Japan
Zeta Division (JP No. 1)
Koji "Laz" Ushida: Sova, Skye, Cypher
Tomoaki "crow" Maruoka: Breach, KAY/O, Sage
Shogo "takej" Takemori: Reyna, Raze, Skye
Ryu "Reita" Oshiro (IGL): Jett, Raze
Akatsuki "makiba" Miyamoto: Astra, Viper
Ryo "barce" Takebayashi: Omen, Brimstone
Yuya "JUNiOR" Sawada (Coach)
Hibiki "XQQ" Motoyama (Coach)
After adding makiba prior to Stage 3 competition, Zeta Division essentially told their fans that the plan was to aim for the top of the world with their team of six players and three coaches, and an emphasis on internal growth and evolution. Well, fly high they did. Across both Stage 1 and 2, Zeta had finished second to just one team in Japan—Crazy Raccoon. When it came to Stage 3, however, the move to a Astra-Viper Controller rotation seemed to make all the difference. With makiba in for barce, Zeta Division started the Japan Stage 3 Challengers Playoffs strong with a 2-0 sweep of Insomnia. In their next series, however, they went to barce's Omen in a Game 3 loss that sent Zeta to the loser's bracket as the hands of Northeption. The rest of the way, Zeta didn't look back, coasting with makiba to a 2-0 over Feeling, a 2-0 over FENNEL, a 2-0 over Northeption and a 3-2 over Crazy Raccoon to clinch Japan's No. 1 seed for Berlin. The fruits of their labor seemed to have paid off in a big way, with Zeta landing in Group C, where the second Knockout Stage spot after Team Envy is thought to be wide open.
Crazy Raccoon (JP No. 2)
An "Medusa" Min-cheol: Sova
Yusuke "neth" Matsuda: Astra, Sage, Omen
Byeon "Munchkin" Sang-beom: Skye
Park "Bazzi" Jun-ki: Sova, Breach
Teppei "ade" Kuno: Viper
Hideki "Fisker" Sasaki: Jett
Daiki "Minty" Kato: Killjoy, Sage
Lim "Twinkl" Young-bin (Coach)
Yusuke "mun" Ota (Coach)
Crazy Raccoon are back looking for their first map win in international play, this time with backup. While rion and zepher have since transitioned in content creation for the org, the team has not only filled their spots, but also expanded to a field-leading seven-man roster with the additions of Bazzi, ade, Fisker and Minty. The winners of both Stage 1 and 2 in Japan, CR made it to the region's grand finals a third time in a row with a two Initiator-two Sentinel-one Duelist comp. Crazy Raccoon were unafraid to adjust depending on the map and opponent, rotating the rest of their roster in and out around Munchkin's Skye and Fisker's Jett. While CR ultimately fell five rounds shy of clinching their third straight Japanese title, many still consider them to the region's best heading into Masters Berlin. With the likes of Gambit Esports and 100 Thieves in their group, however, expecting them to advance to the Knockout Stage is likely too tall of an order.
SEA
Bren Esports (SEA No. 1)
Jessie "JessieVash" Cristy Cuyco: Sova, Sage
Jayvee "DubsteP" Paguirigan: Jett, Raze
Jim "BORKUM" Timbreza: Astra, Omen, Viper
Kevin "Dispenser" Te: Killjoy, Cypher, Sage
Riley "witz" Go: Skye, Reyna, Breach
Gilbert "Gibo" Sales Jr. (Coach)
Bren Esports, the No. 1 seed from the Southeast Asia (SEA) region representing the Philippines, will not be competing in VCT Stage 3: Masters Berlin due to visa issues, Riot Games announced Sept. 3. BRN will be awarded 175 VCT points and the associated prize for qualifying for the tournament, while Masters Berlin will proceed with the remaining eligible 15 teams in a modified format. Outside of a 1-2 Upper Bracket Final series loss, Bren Esports swept their group stage 3-0, CERBERUS Esports 2-0, Team Big BAAM 2-0, Alter Ego 2-0 and Paper Rex 3-0 en route to securing their spot as SEA's No 1 seed for #Brenlin.
Paper Rex (SEA No. 2)
Aaron "mindfreak" Leonhart: Viper, Astra, Omen
Jason "f0rsakeN" Susanto: Jett, Raze, Breach
Benedict "Benkai" Tan (Captain): Killjoy, Cypher, Viper
Khalish "d4v41" Rusyaidee: Skye, Sage, Jett
Zhang Teng "shiba" Toh: Sova, Sage, Killjoy
Alexandre "alecks" Sallé (Coach)
Through Stage 2 and Stage 3 play, Paper Rex has been a consistent Top 2 team in Malaysia and Singapore, as well as a Top 3 team in Southeast Asia (SEA). Between PRX and Bren Esports, Paper Rex was arguably the tougher team coming to Berlin from the SEA region, with the latter having 2-1'd BRN twice before getting unexpectedly swept by them in the Stage 3 Challengers Playoffs. As the lone SEA representative now, however, PRX undeniably has a perhaps the toughest road on paper in front of them out of the 15 teams in Berlin, having landed in the "group of death" with Vision Strikers, SuperMassive Blaze and Acend.
Day 1 of Masters Berlin will kick off with SuperMassive Blaze vs. Acend on Friday, Sept. 10, at 9 a.m. ET.