Valorant
Valorant Episode 3 Battlepass: Everything You Need to Know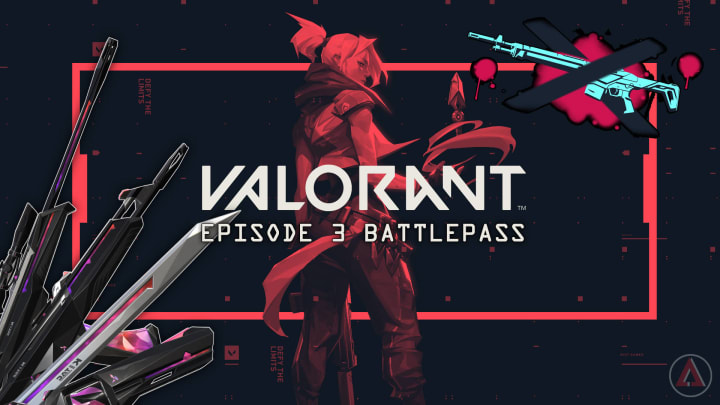 Valorant players are looking forward to what's in the Episode 3 Battlepass launching later this month. / Riot Games
Valorant players are looking forward to what's in the Episode 3 battlepass launching later this month.
Riot Games is ready to release its next Valorant season, Episode 3, later this June. With the next season, comes another battlepass full of rewards for players to earn. Fortunately, players won't have to wait too long to dive right into the latest challenges, operator, and cosmetics.
Here's everything Valorant fans need to know about the Episode 3 battlepass.
Valorant Episode 3 Battlepass Explained
The Episode 3 Battlepass will launch on June 22 and concludes on Aug. 24. It encompasses the entirety of Act 1 and offers a variety of rewards from weapon skins and gun buddies to titles—and everything in between. Players can purchase it for 1000 Valorant Points (VP).
Free items in the Battlepass are:
Jigsaw Ghost
Greatly Increased? Spray
Greatly Decreased? Spray
The Key to Ancient Mysteries Buddy
Snowbirds Card
Meanwhile, the paid items in the Battlepass include:
K/TAC Vandal
Jigsaw Bulldog
Monarch Bucky
Salmon Nigiri Buddy
And more!
"For this pass, we wanted it to feel very much like a reflection on the past because it's been one year since the game launched," said Preeti Khanolkar, Senior Producer at Riot Games, "This battlepass probably has the most fun metagame content we've ever done (my favorite type of content)."
When discussing community impact on the content the team develops, Khanolkar highlighted two of the new sprays—Greatly Increased? and Greatly Decreased?—as "a little thank-you to the community for all their feedback on the ranked system."
"Lately, we've also tried to just create stuff that players will find funny, like the 'Too Heavy' and 'Clutch or Kick' sprays," she said, "If we're cracking up over something, we hope that players will find it funny too."
That's not all. Squad Boost is headed to Valorant in this season with players able to earn boosted experience while playing with their friends. This effect comes as part of the One Year Anniversary celebration and will run from Episode 3's launch to July 6. The boost increases with every additional party member, affecting the experience total as follows:
Solo: +0%
2 Friends: +8%
3 Friends: +12%
4 Friends: +16%
5 Friends: +20%
The Episode 3 Battlepass will also be kicking off alongside the Karma Give Back cosmetic bundle of which over 50% of the proceeds will be donated to charity.