Valorant Episode 5 Act I: New Map Pearl Revealed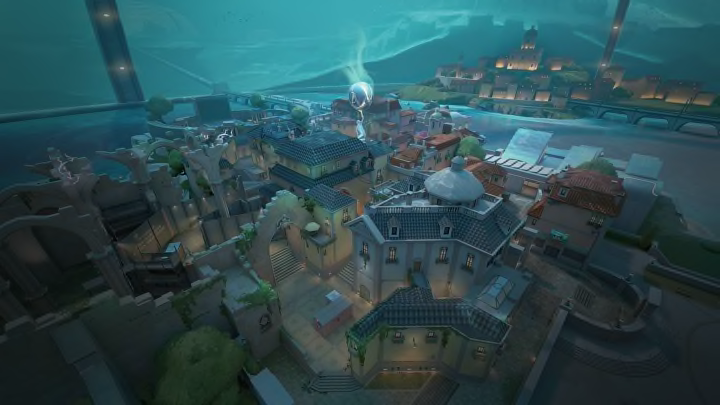 Valorant's new map, Pearl / Image courtesy of Riot Games
A new map is heading to Valorant in Episode 5 Act 1. Here's what you need to know about Pearl.
With Valorant's next episode set to launch soon, fans have been treated to a glimpse of some upcoming content. From new skins, to a new battlepass and, most notably, a brand new map. Pearl will be Valorant's eighth map, and the first one set on Omega Earth.
The map is set to be a little more straightforward compared to some of the game's more recent maps like Fracture or Breeze. Pearl is a three lane map, with small mid and long range wings. The map doesn't have any teleporters, ascenders, or other mobility supports. Instead, players will be battling it out with their own skill.
Well, the map does have one gimmick — it's underwater.
"The inspiration for Pearl started from an older underwater theme pitch concept, which was combined with a newer pitch that revolved around a major city flooded from climate change," said Concept Art Lead Brian Yam.
Image courtesy of Riot Games
"Concepts were made exploring these two ideas and when we placed the location in Portugal, it  got everyone really excited because of its historical and architectural visual potential. Since Pearl takes place on "Omega Earth," we wanted to explore how Omega Kingdom would approach climate change and how we would convey this idea visually."
Valorant Pearl Map: Key Features
Image courtesy of Riot Games
Pearl is set to include a number of features that will set it apart from some of the rest of the maps, including:
Underwater setting
Three lane map
Attackers descend into Defender territory
Set in Omega Earth
Features murals from actual Portuguese muralists
Features a traditional piece of Portuguese music, a fado, from Portuguese artists
When Does Valorant Pearl Map Release?
Valorant's new Pearl map will release on June 22, 2022, the same day as the launch of Episode 5 Act 1.