Valorant Glitchpop Skin Prices Breakdown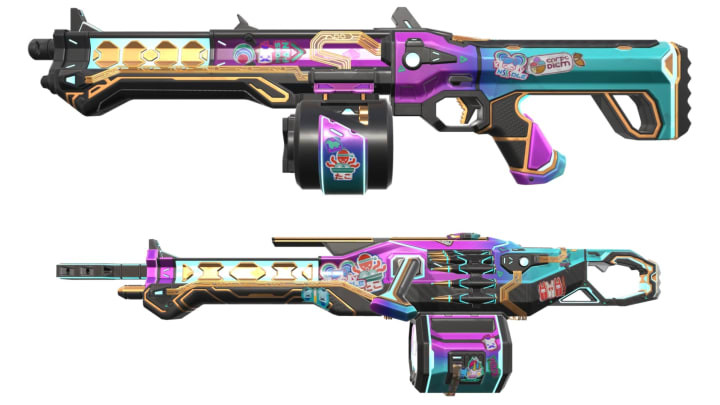 Valorant's Glitchpop skin line prices hammer home how special the skins are. / Courtesy of Riot Games
Valorant Glitchpop skin prices were revealed Monday alongside the skins themselves. Set in the special Exclusive Edition (XE) price tier, the cosmetics in the line have variable — but fairly high — prices. Here's what you need to know about how much each skin in the line costs.
Some of the stickers in the Glitchpop collection. / Courtesy of Riot Games
Valorant Glitchpop Skin Prices Breakdown
The Glitchpop skin line is Riot Games' attempt on a visual style that pops a little more loudly than the more serious skins that have hit Valorant in the past. The designs focus on visual flourishes that sell the skins as unique beyond the visual look of the guns themselves.
There are five elements of the Glitchpop line, including four guns and a melee skin. Here are the prices for each individual piece, plus the proportionally reduced price of buying all five skins at once. The bundle also comes with the exclusive Glitchpop Card, Spray, and Gun Buddy.
Frenzy — 2,175 VP
Judge — 2,175 VP
Bulldog — 2,175 VP
Odin — 2,175 VP
Melee — 4,350 VP
Bundle — 8,700 VP
The melee has two levels, the second of which adds swipe effects and audio, an inspect effect, and a blade color that changes with each equip.
The rest of the skins have seven levels, with each level adding new visual flair:
Level 1: Model only and scope visual effects
Level 2: Custom muzzle flash and firing audio
Level 3: Custom equip and reload effects and audio, logo hologram projection, custom inspect audio
Level 4: Kill banner and Finisher
Level 5: Blue variant with visual effects
Level 6: Red variant with visual effects
Level 7: Gold variant with visual effects
The Glitchpop skin line goes live Tuesday in Valorant Act II.