Valorant Patch 1.0 Notes: Reyna and Ascent Join the Party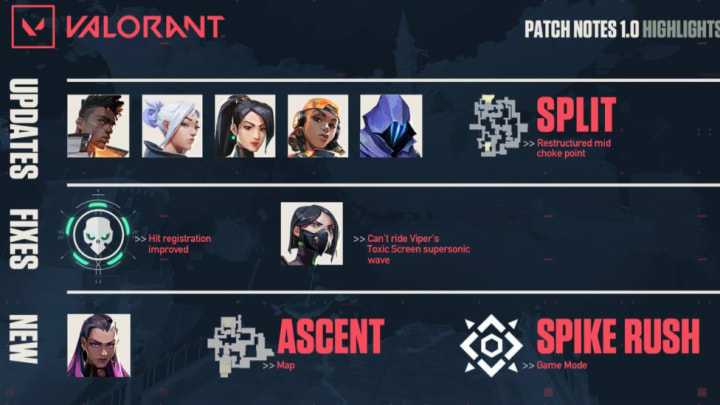 Valorant Patch 1.0 notes were revealed Monday evening before the launch of Valorant on Tuesday. / Photo courtesy of Riot Games
Valorant Patch 1.0 notes were revealed Monday evening before the launch of Valorant Tuesday. Riot Games shared every change players can expect for the upcoming launch including map additions, Agent balances, and a new game mode.
As leaked before the announcement, Spike Rush will be the new playable variant in Valorant, giving players faster paced matches.
Valorant Patch 1.0 Notes: Reyna and Ascent Join the Party
We saw five Agents receive hefty balance changes, some worked as nerfs while others buffed the character. Things like Phoenix automatically reloading his weapons when popping out of "Run it Back," or Omen having the ability to cancel his ultimate, but still losing the ultimate points, are just a few of the changes.
We already have seen a small map rework on Split which saw a change to the mid section. It's easier to breach, and harder to defend for longer periods of time. This should allow attacking teams the ability to push through the middle section at different times of the round.
And just like the Closed Beta, Competitive Mode will not launch when Valorant goes live on Tuesday. Riot Games wants the game to breathe and be experienced by the masses for a few weeks before competitive is launched.