Valorant Patch 1.10: Everything You Need to Know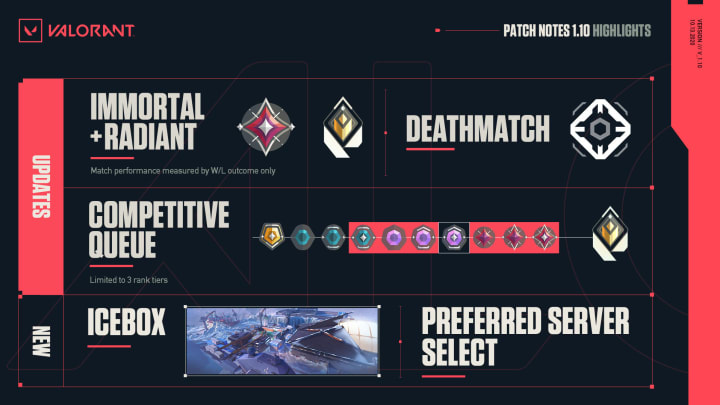 Valorant Patch 1.10 primary changes and takeaways / Riot Games
Valorant Patch 1.10 is finally here, courtesy of Riot Games and its development team. The patch notes for this update were released Oct. 13 and plugged on the game's official Twitter profile. Players can now see their most desired changes finally implemented into this strategic FPS title.
Below, we've complied the most important items coming in this patch.
Valorant Patch 1.10
One already announced a piece of content is the new Icebox map, coming to competitive queue on Oct. 27. Icebox features "a complex combat space that features plenty of cover and verticality. This map emphasizes skirmishes, sharp aim, and adaptive play." It will be implemented in a "beta" state before going to full launch in an effort to iron out any significant issues.
Changes are coming to Competitive queue as well. Players can now select their preferred server when entering the matchmaking system. Additionally, the rank disparity between teammates has been reduced to a three-tier difference.
Deathmatch mode will see an increased player count from 11 to 14. Match duration has also been increased from 6 minutes to 9 minutes or the first player to reach 40 kills—from the previous 30. The spawning algorithm has been updated to promote "safer" respawns. Players will also get both an automatic reload of their weapon for every kill and 900 total XP per match.
Quality of Life changes include mini-map performance increase, ability timers being visible for dead or spectating players, appropriate coloring for map pings based on the team, custom tournaments supporting up to 12 spectators, and more.
Finally, social butterflies rejoice! Friends can now add notes to each other's profiles. These notes will also carry over from other Riot properties such as League of Legends.
More information on the upcoming patch can be found on Valorant's official news and updates blog.