Valorant
Valorant Patch 2.03 Mode Updates Explained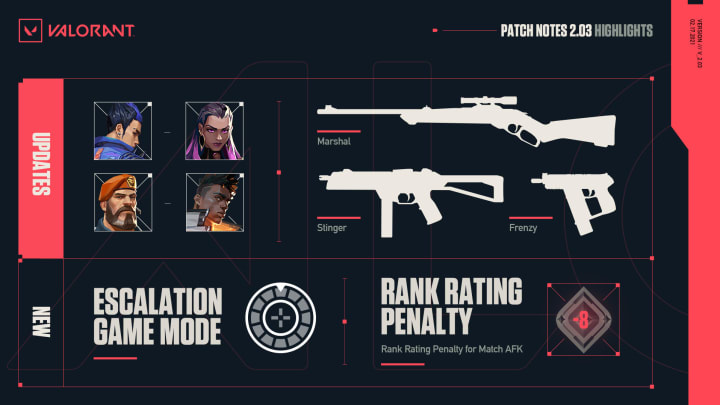 The Valorant patch 2.03 update arrived earlier Wednesday and added in a new game mode, Escalation. / Photo Courtesy of Riot Games
The Valorant Patch 2.03 update arrived earlier Wednesday and added in a new game mode, Escalation. The patch also brought some buffs and nerfs to various agents and weapons.
Valorant Patch 2.03 Mode Updates Explained
Escalation Mode is the biggest addition in the new update, and is the first new proper game mode in Valorant in quite a while, even if it is a limited-time event. It won't be a part of the competitive scene and is expected to be among the likes of Spike Rush and Deathmatch.
In Escalation mode, there will be 12 "levels," each with its own unique ability or weapon. The first team to advance through all 12 levels, or the team farthest in 10 minutes, is the winner. To advance a level, a team must earn 7 points, and a kill on the current level counts as 1, while a kill on previous levels counts as 0.5.
In Escalation, there's a team level, as well as a player's individual level. / Photo Courtesy of Riot Games
For each individual player, they have their own personal level with a specific weapon, and only by getting a kill can they advance their level and get a new weapon. The level of a player does not correspond to the level of the team, as an individual player's level could remain at one, while the team's level is at three. Getting a kill only advances a player one level, despite what the team's level may be, so there isn't any way to skip a level. The mode seems to be chaotic by design, and will likely lead to some wacky clips and moments as agents play a completely different playstyle than they normally do.