Valorant
Valorant Patch 2.03 Weapon Changes: Full List of Changes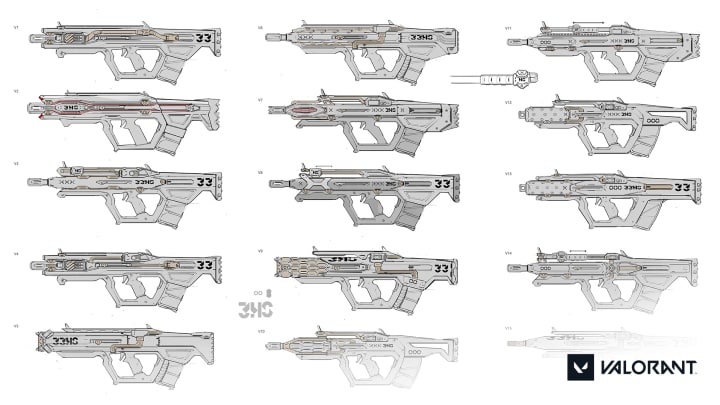 Valorant Patch 2.03 saw several weapon changes added to the game. One of the more powerful weapons in the game, the Stinger, receives a wide array of nerfs. In contrast, the Marshal receives some buffs in an effort to increase its use in the current meta.
Valorant Patch 2.03 Weapon Changes: Full List of Changes
The two weapons with the most significant alterations in Valorant Patch 2.03 are the Stinger and the Marshal. The Stinger is given nerfs to almost every attribute, while the Marshal is given some slight buffs. The Frenzy receives no changes to its performance, but rather an increase in price.
Here is the full list of change for each weapon in Patch 2.03:
Stinger (Full Auto)
Price increased from 1000 to 1100
Full auto fire rate reduced from 18 to 16
Full auto fire max spread reduced from six to four
Adjusted pitch recoil curve for full auto; recoil climbs grows more aggressive after third consecutive shot
Decreased full auto yaw switch bullet protection from four to three
Stinger (Burst Fire)
Adjusted pitch recoil to be more aggressive after first burst
Added more error to subsequent bursts after the first one
Improved recovery time on burst from .45 to .4
Marshal
Movement speed when zoomed increased from 76% of unzoomed movement speed to 90%
Price decreased from 1100 to 1000
Zoom magnification increased from 2.5x to 3.5x
Frenzy
Price increased from 400 to 500
The host of nerfs to the Stinger is meant to lower the weapon's overall power, as it excelled in too many areas. Not only was the Stinger's performance nerfed, but its price was also increased. This decreased Stinger's potential as a value pick and now it might also be outclassed by the other SMGs in the game.
The Marshal is one of only two sniper rifles in Valorant and has always been outshined by the powerful Operator. The buffs to the Marshal in Patch 2.03 aim to make the sniper easier to use while on the move and increasing its value. With improved mobility, increased zoom for the scope, and a price reduction, players might now feel enticed to buy a Marshal early rather than wait until they can afford an Operator.
Valorant Patch 2.03 is now live. In addition to weapon changes, other highlights include changes to Reyna and the introduction of a new game mode, Escalation.