Valorant Rank Distribution April 2023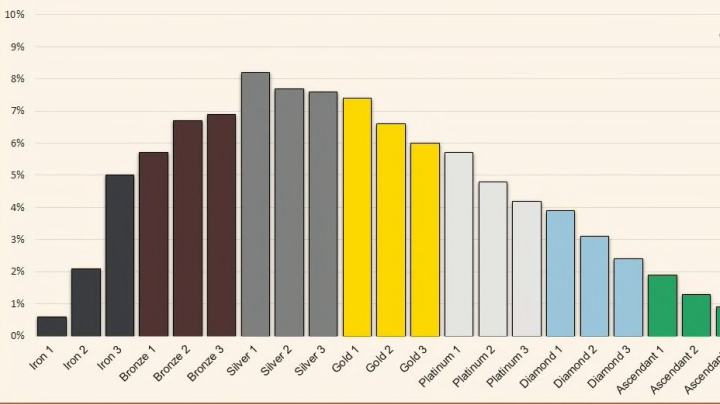 EsportsTales
Valorant is a game that has a growing community, and there have been more than 20 million concurrent players of the game in recent months. Although not every player attempts to queue for competitive and rank up, there are numerous people that attempt to climb the ranked ladder.
Since ranking up in Valorant can be daunting, some players like to see where they stack up against the rest of the player base. So, there is usually a Valorant rank distribution chart that is available on many different websites. Here is the latest ranked distribution for Valorant in 2023.
Valorant Rank Distribution April 2023
Since we are still in the month of April, there has not been any information released on the rank distribution for this month. There has been a rank distribution released in regards to the month of March, which will likely look similar to April's distribution.
Esportstales.com has a ranked distribution available for last month for everyone to see where they stand among the rest of the Valorant players. The chart is fairly even across most ranks, until you reach the lowest and highest ranks. A majority of players are in Silver, as the highest percentages of players belong in one of the three Silver divisions.
The next most concentrated rank is Gold, but it has a few percentage points lower than Silver. The rest of the distribution chart looks like a descending staircase.