Vespertine Warzone: How to Get the Weapon Blueprint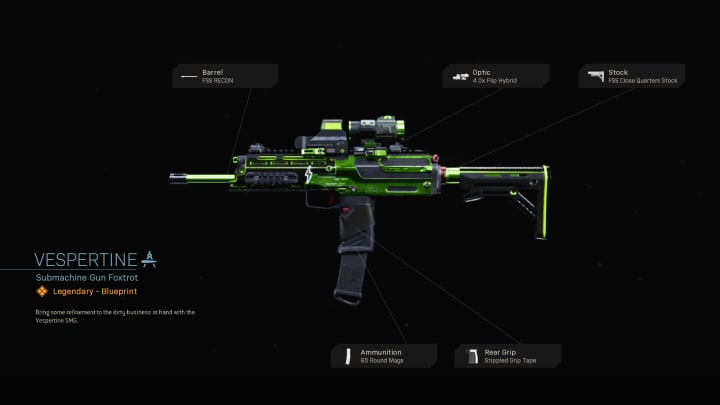 The Vespertine Blueprint in Warzone features a neon green weapon skin for the MP7. / Credit: Activision, Infinity Ward
How to get the Vespertine Weapon Blueprint in Warzone is all about the "Tactical Human III" bundle.
Blueprints within Call of Duty: Warzone act as variants to pre-existing weapons with a twist. They often contain different names than the base of the weapon in its class. For example, the legendary White Noise blueprint is based off the original M4A1.
Legendary blueprints exist for all weapon classes, including assault rifles, submachine guns, light machine guns, shotguns, marksman rifles, sniper rifles, and handguns.
What makes them different are not only their jaw-dropping cosmetics but also their attachment combinations that will more often than not pack lethal punches.
Vespertine Warzone: How to Get the Weapon Blueprint
In-order-to get the weapon blueprint, players will need to purchase the "Tactical Human III" Bundle from the Call of Duty Store. This bundle costs 2000 COD Points (CP), although it comes with several more items than just the Vespertine legendary blueprint.
Once obtained, the Vespertine's Warzone loadout is as follows:
Muzzle: Lightweight Suppressor
Optic: 4.0x Flip Hybrid
Stock: FSS Close Quarters Stock
Ammunition: 60 Round Mags
Rear Grip: Stippled Grip Tape
This green MP7 variant is to a great way to style on your Warzone opponents from both close and long ranges.