Void Monster Warzone Blueprint: How to Get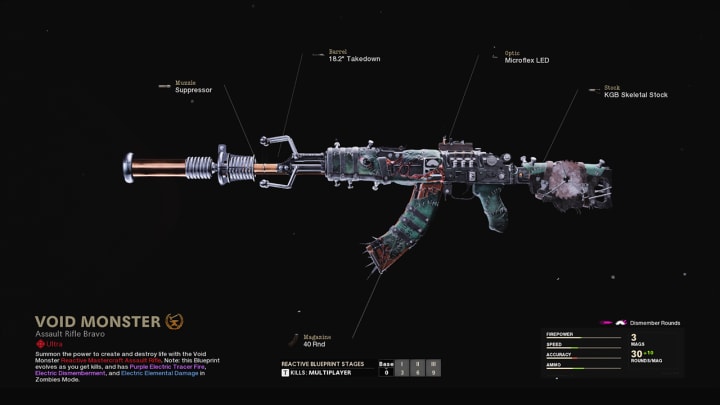 Call of Duty (COD): Warzone players are wondering how they can get their hands on the Void Monster AK-47 blueprint. / Activision, Raven Software, GamesAtlas
Call of Duty (COD): Warzone players are wondering how they can get their hands on the Void Monster AK-47 blueprint.
All Hallows' Eve has come to Verdansk, bringing an assortment of frightening bundles along with it. One of these, the Necro Queen Tracer Bundle, has gained particular attention thanks to one of its blueprints. An AK-47 print known as the Void Monster is among the most popular additions this year—in part due to its unique appearance that evolves as the match goes on.
Here's how to get it.
Void Monster Warzone Blueprint: How to Get
Currently, the only way to get the Void Monster Reactive Mastercraft Assault Rifle blueprint in Warzone is by purchasing the Tacer Bundle: Necro Queen off the COD store. There are 10 items within the pack, priced at 2400 COD points.
Void Monster is made up of the following attachments:
Barrel: 18.2" Takedown
Magazine: 40 Rnd
Muzzle: Suppressor
Optic: Microflex LED
Stock: KGB Skeletal
This weapon adds an incredible amount of ammunition capacity as well as a bonus to speed and, trivially, firepower, at the cost of accuracy.
The Void Monster, itself, is of Ultra quality and features Purple Electric Tracer Fire, Electric Dismemberment, and Electric Elemental damage in Zombies mode. This has made it a common choice in this mode—contributing to its popularity overall.
Other items included in the Necro Queen bundle are Void Demon LC10 and Void Ghoul CARV.2 blueprints, Hack Saw weapon charm, and Stolen Time watch.