Walker Zimmerman FIFA 23: How to Complete the Road to the FIFA World Cup SBC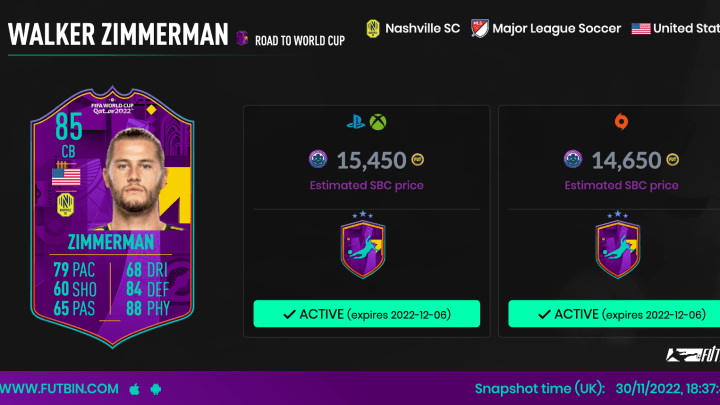 FUTBIN
Walker Zimmerman FIFA 23 Road to the FIFA World Cup SBC went live Nov. 30 as the latest piece of content during the World Cup festivities in Ultimate Team.
Road to the FIFA World Cup is the latest promotion in the World Cup update highlighting players who starred for their countries in the run up to Qatar. This promotion followed Path to Glory and will be followed by the upcoming World Cup Stories promotion. Zimmerman started two games for the United States so far at the World Cup. He came off the bench against Iran to help the country secure a place in the knockout stage against the Netherlands.
Walker Zimmerman FIFA 23: How to Complete the Road to the FIFA World Cup SBC
Here's how to complete the FIFA 23 Road to the World Cup Walker Zimmerman SBC:
One Segment
84 Rated Players or Higher: Min. 2
Squad Rating: 82
No Chemistry Requirement
Players in the Squad: 11
Zimmerman is very cheap to complete. According to FUTBIN, it's around 15,000 coins to complete from scratch. Players who want an MLS or US themed team will likely complete this SBC, but others probably will end up passing on it. He's also Lengthy by default which will make him a great defender to link with cards like Rulebreakers Lorenzo Insigne, End of an Era Gonzalo Higuain and Heroes Clint Dempsey and Landon Donovan.
Perhaps if players have fodder they don't know what to do with, they can get a free 85 rated card. But, at multiple points in the future other 85 cards will be cheaper on the transfer market.
FIFA 23 Road to the World Cup Zimmerman expires Dec. 6 at 1 p.m. ET.