FIFA
Wamangituka FIFA 21: How to Complete the Bundesliga TOTS SBC
By Max Mallow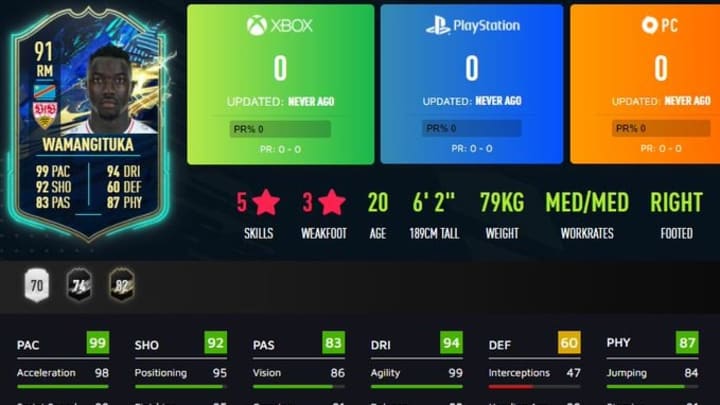 Photo by FUTWIZ
Silas Wamangituka received a FIFA 21 Team of the Season SBC item for the Bundesliga on May 16 giving fans one of the most requested cards of the year.
Wamangituka has been one of the most popular players in the Bundesliga this season for Stuttgart. He's already received a Silver Stars Team of the Week item and a gold in-form. But, this new item blows most other items from the league out of the water. With 99 pace, five-star skills and great dribbling, shooting and physicality to boot, Wamangituka is going to be a staple for the rest of the game cycle.
Wamangituka FIFA 21: How to Complete the Bundesliga TOTS SBC
Here's how to complete the TOTS Wamangituka SBC in FIFA 21:
Segment 1
# of Players from Bundesliga: Min. 1
Squad Rating: 84
Team Chemistry: 75
# of Players in the Squad: 11
REWARD: Prime Electrum Players Pack
Segment 2
Team of the Week or Team of the Season Players: Min. 1
Squad Rating: 85
Team Chemistry: 65
# of Players in the Squad: 11
REWARD: Rare Gold Pack
At around 200,000 coins to complete from scratch, Wamangituka is a must complete. If you miss out on this card, you'll regret it all the way to October at FIFA 22. He's difficult to link nationality wise, but there's an abundance of high-end Bundesliga cards and Icons at players' disposals.
TOTS Wamangituka expires May 21 at 1 p.m. ET.