Warzone 1980s Verdansk Map Leaked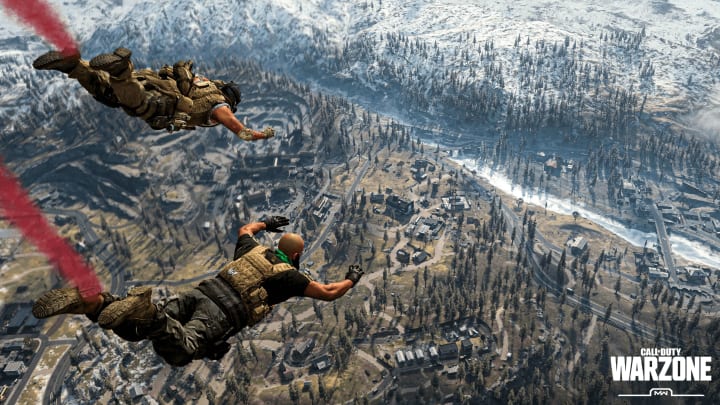 Warzone 1980s Verdansk Map Leaked / Photo courtesy of Activision
A Call of Duty: Warzone 1980s Verdansk map leak has many players in the community excited for a new experience, but the leak itself has been quickly taken down courtesy of takedown notices from Activision. The video, which leaked several changes to the map, was leaked to Twitter as part of a live-action ad.
Warzone 1980s Verdansk Map Leaked
The changes to Verdansk are allegedly arriving on April 22, which is when Season 3 is set to begin if the 10-week cycle holds true for Season 2. Major changes to the map that we've seen so far include:
In-progress construction of Stadium;
Scaffolding and a larger military camp located outside of Quarry (for reference, look location in the title photo just right of the jumping soldier's hand, and left of the Call of Duty: Warzone logo);
A bridge where the dam at Dam is placed
An intact plane in Airport
The April 22 date has not yet been confirmed, but that date is the generally accepted date for a new Verdansk by the Call of Duty community. Season 1 of Warzone lasted 10-weeks long, and April 22 will be the 10-week mark from the starting date of Season 2.
This may not be the new map that players were hoping for, but as nothing is confirmed yet we'll hopefully see more changes as Activision builds up to Season 3. Additionally, whatever we receive may not be the full scope as Call of Duty developers are infamous for unlisted changes implemented in updates - such as the silent FFAR nerf and more.