Warzone 2 March 29 Weekly Playlist Update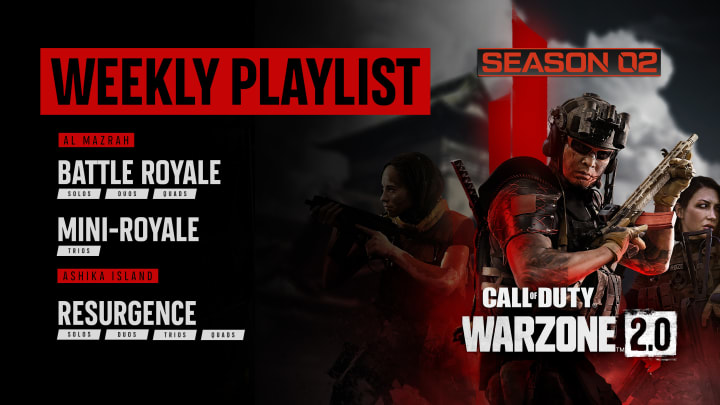 March 29 weekly playlist update in Warzone 2. / Activision
Warzone 2 has received a new playlist update for this week, dicatating which modes will be available for player to dive into for the next seven days.
As with most live-service, online multiplayer games, both Modern Warfare 2 and Warzone 2 undergo weekly playlist updates in order to switch up the available content. Players will usually see a change in not only the available maps and modes, but also the squad sizes available to play.
Last week, players were dropping into Al Mazrah for both Battle Royale and Mini-Royale, the latter of which was only available for Trios. Battle Royale was live for Solo players, and Duo and Quad squads. Also on the table was Resurgence via Ashika Island, available for Solos, Duos, Trios and Quads.
As of March 29, we've entered a new week in Warzone 2, which means a new weekly playlist update. But, interestingly, not much has changed.
Warzone 2 March 29 Weekly Playlist Update
Actually, nothing has changed at all. Players will be able to drop into the same maps, modes and squad sizes as the week previous:
Al Mazrah
Battle Royale
Mini-Royale
Ashika Island
Resurgence
While some players will welcome the lack of changes this time around, others are a bit more anxious to get more noticeable updates. "Dropping into Fortnite...... I'm coming back if there are significant changes," one comment said.
"I'll be doing some resurgence this weekend for sure!" Another user said.
Modern Warfare 2 saw a few more changes this week, however. The multiplayer received an updated "Close Quarters" playlist for players to get frantic with.