Warzone AR Tier List August 2021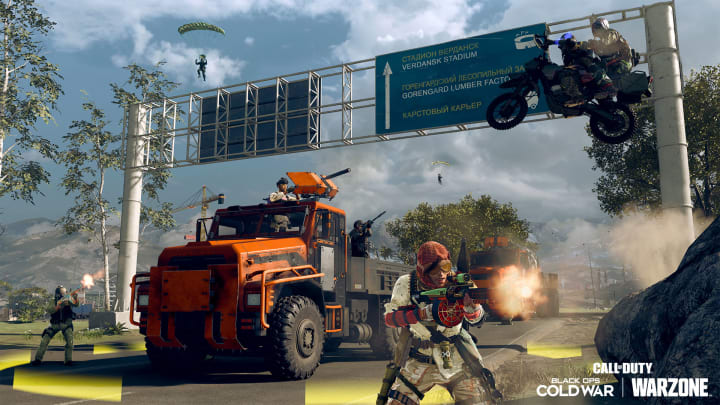 DBLTAP's assault rifle tier list for Call of Duty: Warzone, updated for August 2021. / Photo courtesy of Activision
Presented by Best Buy
Our Warzone AR tier list for August 2021 is here to break down which guns are the best to use in Verdansk '84 and Rebirth Island now that the community has had a chance to see how the Season 4 Reloaded meta has shaken out.
As content creators, pro players, and casual gamers alike continue to discuss and experiment with different weapons to see what truly got nerfed and buffed, here are the best assault rifles to use in Call of Duty: Warzone in August 2021.
Warzone AR Tier List August 2021
1.

S Tier
C58 / Photo courtesy of Ralston Dacanay, Activision
Sitting atop of the Warzone meta at the moment are the C58 and the Krig 6. Although most players will continue to opt for the Krig 6 due to its much less aggressive recoil pattern, the C58 has a slight edge in the damage department, making it the best gun in the game in the right hands.
2.

A Tier
QBZ-83 / Photo courtesy of Ralston Dacanay, Activision
FARA 83
QBZ-83
CR-56 AMAX
Grau 5.56
M4A1
In A Tier are a wide variety of options that are really good and remain generally very balanced to use in Warzone. Post nerf, the FARA 83 isn't what it once was up close or with its recoil pattern from medium to long range. However, with its better-than-average stats, the FARA 83 remains one of the most viable ARs in the game. The other assault rifle to highlight in this tier is the QBZ-83, which has shot up our rankings drastically thanks to its minimum damage, upper torso multiplier, and lower torso multiplier values receiving major buffs with the Season 4 Reloaded patch.
3.

B Tier
M13 / Photo courtesy of Ralston Dacanay, Activision
These weapons in B Tier remain viable, but could use a slight buff in order for more players to seriously consider mastering them. After receiving nerfs that simply make them outclassed in close-range fights, the XM4 and Black Ops Cold War AK-47 are now fittingly sitting in the same tier as the FFAR 1, whose similar heydays of sniper-support supremacy are long gone.
4.

C Tier
RAM-7 / Photo courtesy of Ralston Dacanay, Activision
RAM-7
Kilo 141
FN Scar 17
FAL
AN-94
The C Tier includes rifles that definitely need a buff in Warzone. The RAM-7 took the biggest hit of the sniper-support AR options after the Season 4 Reloaded update, while the rest remain not worth most players' time.
5.

D Tier
FR 5.56 / Photo courtesy of Ralston Dacanay, Activision
At this point in the tier list, these ARs are not close to having a place in the meta. These three D-Tier assault rifles are really lacking a lot in a lot of departments and simply won't stand a chance at the moment.
Everyone needs to know what's best when they go back to school, whether it's the first day outfit they choose or the new laptop they purchase. Lenovo laptops from Best Buy help every student, teacher and even gamer maximize their productivity and get the most out of every experience behind the screen.