Warzone Golden Plunder LTM Explained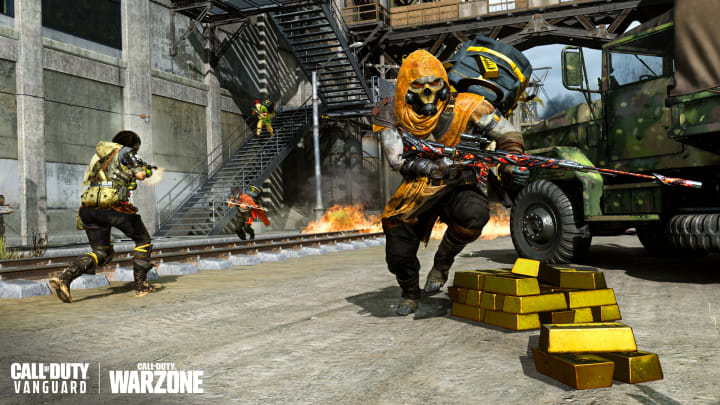 Photo Courtesy of Activision
Warzone is adding a brand new limited-time game mode, Golden Plunder. Amid the current Mercenaries of Fortune event, Warzone is adding in a new variant to the classic plunder game mode.
The goal of Golden Plunder is to finish the game with the most money in the lobby, just like plunder. Of course, money can be found in chests or as floor loot. Additionally, eliminating opponents also rewards money.
Photo Courtesy of Activision
Warzone Golden Plunder LTM Explained
In Golden Plunder, respawns are enabled, no matter how many of your teammates are still alive. Although this is yet to be confirmed, Golden Plunder may be on the new map, Fortune's Keep. This would make sense considering the names are similar.
This could be similar to when Rebirth Island was introduced at the same time as the resurgence game mode.
The New Rules
The lobby size has been increased. Up from the typical 100, lobbies will now be filled with 120 players. Finding players to fight will be much easier now. Upon death, players will drop more money compared to regular plunder and the blood money game modes.
Photo Courtesy of Activision
Around the map, there are broken ATMs that when you interact with them, they will "keep spewing out endless amounts of cash". In addition to broken ATMs, there is a rare chance that you will find a Golden Keycard. The Golden Keycard will give you access to a vault with lots of cash and good loot.
In order to secure the win, teams will need to accumulate $5,000,000. You will need to win by eliminating enemies, interacting with the broken ATMs and hoping you are lucky enough to find the Golden Keycard.