Warzone Iron Trials '84 Mode: What is it?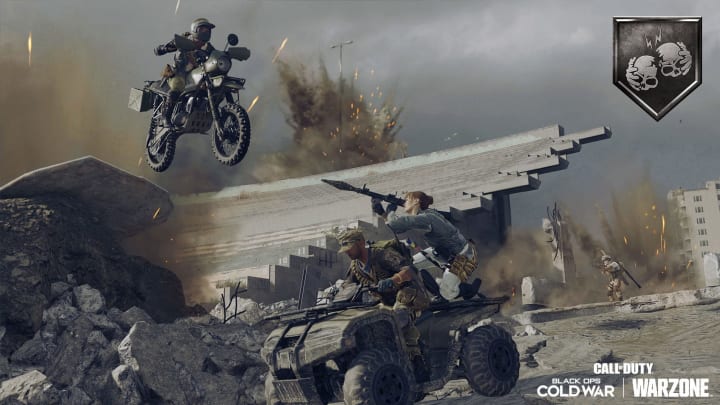 Image courtesy of Activision
Iron Trials '84 is being added to Warzone alongside the Season 5 Reloaded update.
In what is being called "the toughest Battle Royale mode to ever come to Verdansk," Iron Trials '84 is coming to Call of Duty: Warzone Season 5 Reloaded. It seems in this mode players will truly be put to the test, with a few changes set to make surviving even more of a challenge.
"Flex your mastery over the entire arsenal of weapons, prove you can handle any firefight with any type of armament, and earn an exclusive Calling Card to prove your mettle. The rules have changed."
So, how does this new mode work?
Warzone Iron Trials '84 Mode: How Does it Work?
The Iron Trials '84 features a different ruleset to the base Battle Royale mode. To start, players will have an increased base health, while regen rates have been altered. This means that the fights will likely go on for longer, increasing TTK.
Another change affects Loadouts. Free Loadout Drops have been removed in this version and players will instead need to purchase their preferred weaponry at the Buy Stations. Of course, these will be more expensive than usual so players will need to work for their weapons.
The Gulag shifts focus to one-on-one skillful takedowns. Almost no tactical equipment will present in this mode, no full or semi-automatic shotguns, and no akimbo weapons. Instead, players will need to be the best in a pure gunfight. Players who earn redeployment will drop back into the map with whatever weapons and equipment they were using in the Gulag.
There are hints towards a variety of environmental changes coming to this mode that will impact the Warzone experience. On top of that, some classified weapons will also be making an appearance. More information on these features is due to be announced later.
Call of Duty: Warzone Season 5 Reloaded kicks off on Sept. 9, 2021. The exact date for the Iron Trials '84 mode has not yet been confirmed.