Warzone Nail Gun: How to Unlock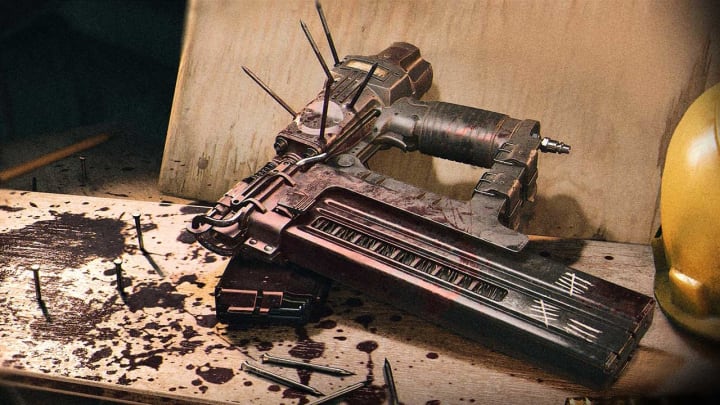 Here's how to unlock the new Nail Gun in Call of Duty: Warzone Season 4. / Photo courtesy of Activision
The Warzone Nail Gun has been one of the most fun, eye-catching additions of Season 4, allowing players to bring a type of firepower in Verdansk forgotten in the Call of Duty universe since 2016.
For those looking to get to work with the new fully automatic Black Ops Cold War Nail Gun, the 1980s predecessor to the futuristic DIY 11 Renovator variant seen in Black Ops III, here's how to the unlock the new SMG in Call of Duty Warzone: Season 4.
Warzone Nail Gun: How to Unlock
Players have two options to acquire the Season 4 Nail Gun:
Purchase the new Frame Work bundle (1000 CP), which includes the Puncture Wound legendary blueprint of the special weapon, an operator finishing move, a gesture, a watch, an emblem, a calling card and two battle pass tier skips.
Complete the unlock criteria challenge—Get five eliminations with Special Weapons in 15 different completed matches.
While the former is certainly the easier way to go and comes with no downside since the Nail Gun has no customizable attachments anyway, the latter can be done with some patience in both Black Ops Cold War and Warzone.
For those who have Cold War and want to get it done over there, feel free to check out our guide on that here.
For Warzone-and-Modern Warfare-only players, the best way to get the Nail Gun for free is by taking any of the BOCW Special Weapons—the M79, R1 Shadowhunter or the Ballistic Knife—into Plunder with stun grenades and Dead Silence. I'd recommend dropping in Storage Town to rack up the kills as the POI often sees high activity the whole game.
Be sure to note that for some reason, stabbing enemies with the Ballistic Knife doesn't count towards the challenge, only shooting.
Additionally, although the challenge states the eliminations need to be done in "15 different completed matches," players have confirmed that you can leave the match once you get your five kills. The Nail Gun challenge progress should update in-game for those who want to check before leaving their lobbies early.